Alexander Novokhodko, Lien White, Tin-tin Patana, and Yi-hsin Jong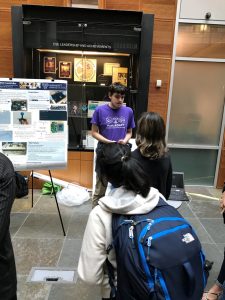 Mission Statement
Play is important for childhood development, adapted game controllers are needed for rehabilitation therapy.
Accomplishment
Designed bigger layout of our controller with Rhino software and laser cut it onto wooden plate. Chose big arcade buttons and joystick that are easy to push and grab onto. Understood XBOX joysticks and magnetic triggers in order to connect the right terminals of the new joysticks/buttons to the right sense and ground pins. Soldered wires to XBOX controller circuit board and connect them to appropriate buttons and joystick to use new sets of buttons and joystick to control the XBOX controller. 3D printed frame and foam-cut packaging to protect electronics during transit.
Next Steps
A PCB to replace the header-board may make it significantly easier to work with and maintain. The LPKF in the makerspace can be used to make such a PCB.
There are some buttons that we decided not to implement. They were deemed to electrically complex/infrequently used. They are left and right bumper and pressing down on the joysticks. With the base we have built, creating a new adapted controller where those buttons are adapted as well would be a useful next step.
For either our or the Microsoft controller, I could see it put to use on more than just XBOX One games. We tested the controller using PC applications that respond to XBOX one buttons. With the right software, these accessible controllers can be plugged into computers to make a lot of computer programs, from research software to PC games, accessible.
Redesigning the casing: Our need experts recommended a sloping structure, where the front is half the height of the back. Some of that saved space can be made possible by moving the power cable from the front to the back. A new team could look at other redesigns to the casing.
The document "Notes from other HuskyADAPT Need Experts" under "Meetings with Need Experts" has a couple. The one I would highlight is pedals, just because it could provide a good place to put some of the other buttons mentioned in 2.
Making the joysticks softer. e.g. like rubber balls, could be helpful for some users.
Acknowledgements
We thank Dr. Chris Neils, Dr. Dianne Hendricks, Dr. Kat Steele, Molly Mollica and rest of the HuskyADAPT team for technical support throughout the project. We thank former team members including Lien White, Phillip Lee, Roujia Wang and Moritz Lange. We thank Igor Tolkov for providing materials. We thank the Mathers Fund to Empower & Improve Human Ability for their on-going support of HuskyADAPT.
Contact Information
Want to contact HuskyADAPT? Feel free to send us an email at adaptuw@uw.edu
Click on the "Files" heading to look at our documentation!