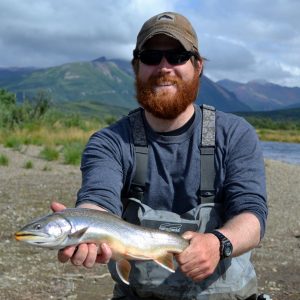 Timothy Walsworth
Adviser: Daniel Schindler
My current research focuses on the effects of species interactions and commercial fishery structure on the productivity of sockeye salmon populations, and the influence of juvenile life-history diversity on sockeye recruitment. More broadly, I am interested in how biotic interactions, including human exploitation, influence conservation and sustainability of fish populations, and the stability of aquatic ecosystems and the human communities that rely on them.
Adrianne Smits
Adviser: Daniel Schindler
I research how landscape geomorphology and climate interact to control energetic pathways in boreal stream food webs (Bristol Bay, Alaska). I use stable isotope and fatty acid tracers to investigate how watershed features determine the carbon sources (terrestrial plants, stream algae, marine subsidies etc) supporting consumers such as insects and resident fish. For example, in recent work I found higher assimilation of terrestrial carbon sources by aquatic insects living in flat watersheds than in steep ones, reflecting the greater accumulation of terrestrial plant material in low-gradient landscapes. Understanding these fundamental physical controls on carbon pathways and food web processes will help maintain productive, intact freshwater systems even as human impacts on them grow.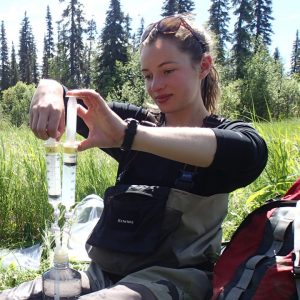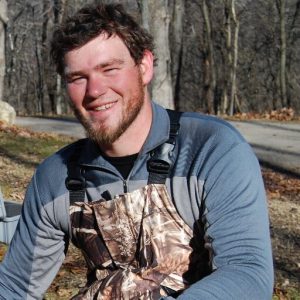 Timothy Cline
Adviser: Daniel Schindler
I am generally interested in patterns and processes that create resilience in ecosystems and reliability in services for society. My current research focuses on the socio-ecological impacts of environmental variability and identifying strategies for achieving stability. Additionally, I am also interested in more general aquatic ecosystem processes such predator-prey relationships, density dependent processes, and how aquatic systems may respond anthropogenic disturbance including exploitation and climate change.
Michael Tillotson
Supervisor: Thomas Quinn
Mike was born in Seattle and during a childhood spent salmon fishing from Puget Sound beaches he developed a profound interest in salmon and their peculiar life history. While obtaining his bachelor of arts in environmental studies and anthropology at Bowdoin College in Brunswick, Maine, it was the study of local, depleted Atlantic salmon runs and working in the Bristol Bay sockeye salmon fishery during the summer that helped  him to develop an appreciation of the interconnectedness of human and ecological systems. After working in environmental consulting for two years Mike studied marine social-ecological systems at the University of Washington's School of Marine and Environmental Affairs, where he received his M.M.A in 2013. As a doctoral student at the School of Aquatic and Fishery Sciences, Mike continues to allow his passion for understanding, protecting and catching salmon to  guide his studies. His interdisciplinary research explores the relationships between climate change, marine and aquatic ecosystems, salmon and the people who depend on them.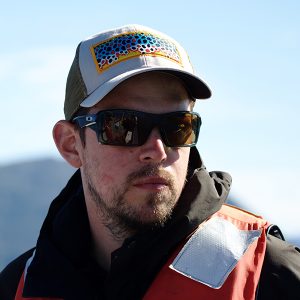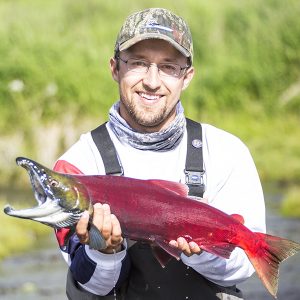 Martini Arostegui
Adviser: Thomas Quinn
Martini received his B.S. in biology, with a specialization in marine biology, from Stanford University in 2014 where he studied the influence of the El Niño Southern Oscillation on the migrations and vertical movements of blue marlin (Makaira nigricans) in the equatorial Pacific south of Hawaii. He is interested in the ecology, behavior, life history, physiology, and diversity of all fish species in both marine and aquatic systems. As a M.S. student at the University of Washington's School of Aquatic and Fishery Sciences, Martini is focused on studying rainbow trout ecotypes in southwest Alaska, Salish Sea resident chinook salmon migration patterns and depth distributions, and other aspects of Pacific Northwest fish ecology. He is an avid angler and pursues his passion for fish both in his work and his recreation.
Lukas DeFilippo
Adviser: Daniel Schindler
My research uses otolith microchemistry to examine the effects of environmental conditions during early marine residency on the recruitment of Bristol Bay sockeye salmon stocks. I am particularly interested in understanding how the effects of basin-scale environmental conditions vary among stocks with different ocean entry points. More broadly, I aim to understand the spatial and temporal scales at which fish populations respond to cyclic and progressive changes in marine ecosystems.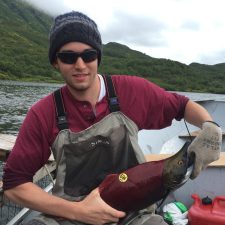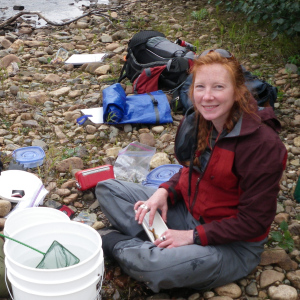 .
Sarah O'Neal
Adviser: Daniel Schindler
Sarah has been a freshwater ecologist for 17 years, working on a variety of issues including water quality, aquatic plants, algae, aquatic insects, and zooplankton, as well as fish biology.  She received her Bachelor's of Science from the University of Washington, and her Master's of Science in Freshwater Ecology from the University of Montana's Flathead Lake Biological Station where Dr. Jack Stanford served as her advisor. She is originally from Washington State, and has worked there as well as British Columbia, Montana, Argentina, Oregon and Alaska. Sarah has worked for the public, private and non-profit sectors. Her recent work focused on risks to salmon ecosystems and aquatic resources from large scale development in relatively pristine salmon watersheds of Alaska, including the proposed Pebble copper mine and the proposed Sustina-Watana Hydroelectric Dam.
Sean Brennan
Supervisor: Daniel Schindler
My research focuses on developing and using biogeochemical tracers to elucidate the behavioral ecology of animals across space and time. By coupling the naturally occurring variation of biogeochemical tracers in aquatic and terrestrial ecosystems with sequentially growing animal tissues, I aim to inform persistent knowledge gaps facing natural resource management and conservation ecology.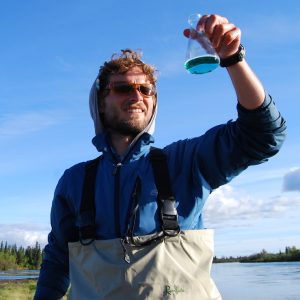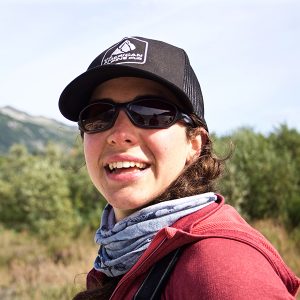 Rachel Hovel
Supervisor: Thomas Quinn
Rachel is broadly interested in the processes of community ecology in freshwater systems and the ways in which organisms cope with habitats that vary in time and space. Her dissertation research focused on fish communities in large coastal lake systems, and explored how diversity among and within species affect their interactions in variable environments. Current projects include work in the Wood River lakes of Bristol Bay, Alaska, where shifts in community composition and the expression of life history events are explained with climate change signals over a five decade time series. Other research, in Lake Washington, seeks to determine how phenological diversity helps buffer against seasonal variability in resources, and how species interactions can shape foraging behavior in a pelagic food web.
Jan Ohlberger
Supervisor: Daniel Schindler
My research aims at understanding how fish populations respond to changes in climate, exploitation by humans, and disease spread. To investigate my research questions, I use statistical and mathematical modeling combined with field studies, existing time-series data, and laboratory experiments. I have worked on basic and applied issues in both marine and freshwater systems.Currently, I am studying environmental impacts on multiple populations of Chinook salmon across Alaska, where many of the populations have experienced declines in productivity in recent years. We are applying multivariate statistics to detect important environmental drivers and assess their suitability for short-term predictions of the productivity of these populations.