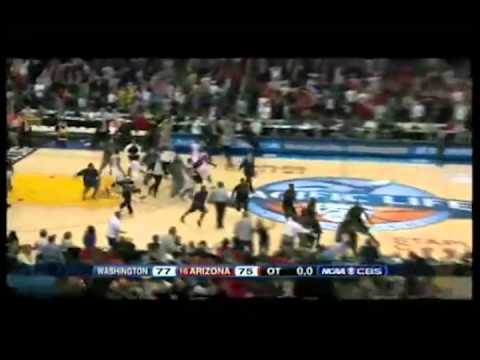 First things first, how about those Huskies?!
Washington's dramatic 77-75 win over Arizona in the Pac-10 Tournament title game sent the UW to the Big Dance. Star point guard Isaiah Thomas drained a game-winner at the buzzer that instantly goes down as one of the biggest shots in Husky history. Listen to legendary play-by-play man Bob Rondeau make the call in the video above.
On Friday, March 18, the Huskies will tip off against Georgia in the NCAA Tournament's East Regional. We're a No. 7 seed. Georgia's a No. 10 seed. Both schools go by the nickname "Dawgs" … it's going to be a, well, you know what kind of fight it will be.
If you're not in Seattle, visit our viewing party page to see if there's a gathering in your area. There's nothing better than watching Husky hoops with friends wearing purple and gold. Go Dawgs!