Leisy Logistics Center
In a cardboard box lay two dozen toy soldiers and two toy military trucks. There was also a Medal of Honor citation for Army 2nd Lt. Robert Ronald Leisy, '68, and 25 letters, some still smudged with the red dust of Vietnam.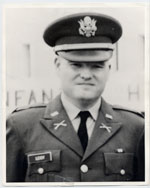 Bob Leisy (pronounced Lacey) is one of eight University of Washington alumni who have received the Medal of Honor, in his case posthumously. He died in Vietnam during a firefight after using his body to shield his fellow soldiers—his friends—from a grenade. It was Dec. 2, 1969, and the 24-year-old political science graduate who had enlisted in the Army had been in Vietnam less than three months.
The box of letters that arrived at the UW's Army ROTC earlier this year came as part of an agreement for the UW to inherit material housed in the Leisy Army Reserve Center at Fort Lawton as it closes over the next five years. [see complete article here]
If it weren't for the Leisy Logistics Center, we wouldn't have the rucks and equipment to carry, nor the boots to make it happen. So, if you are a new cadet or already are a cadet, you'll find what you need at 1415 NE 45 St, Seattle, WA 98105 (on the SW corner of NE 45th St & 15th Ave NE) or contact Allen Wallace at (206) 632-7280 or "wallaa@uw.edu".