Profiles

Clare Boothe Luce Assistant Professor (Physics and Astronomy),
University of California, Irvine


Dual-Title Ph.D.,
Astronomy & Astrobiology, UW (2014)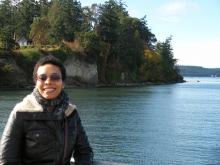 Office: Physics and Astronomy Building

Box Number:
351580


Astrobiology Areas of Interest: Exoplanets: Detection, Habitability, & Biosignatures, Education & Outreach
Biography:
Aomawa Shields is an Astronomer, Astrobiologist, actor, and writer. Her research focuses on modeling the potential climates of extrasolar planets to identify those that may be able to support life.
Aomawa received her Ph.D. in Astronomy and Astrobiology from the University of Washington in 2014,and a Sc.B. in Earth, Atmospheric, and Planetary Sciences from MIT in 1997. A classically-trained actor, Shields received an MFA in Acting from UCLA in 2001. She appeared in the film Nine Lives, directed by Rodrigo Garcia, which premiered at the Sundance Film Festival and was one of Ebert and Roeper's "Top Ten Films of 2005". Dr. Shields uses her theater background to communicate science to the public in engaging, innovative ways. She co-hosted the PBS TV show Wired Science, and has appeared on The History Channel's Universe, and The Discovery Channel's SciTrek series. As a 2015 TED Fellow, Dr. Shields's TED Talk "How We'll Find Life on Other Planets" has over 1.3 million views.
Aomawa is a National Academy of Sciences Kavli Frontiers of Science Fellow, and was recently recognized by Arizona State University as the recipient of the 2016 Origins Project Postdoctoral Lectureship Award. She has been featured as one of Ozy.com's "Rising Stars", and was featured in the June 2016 issue of Glamour Magazine. She is Founder and Director of the organization Rising Stargirls, which encouraging girls of all colors and backgrounds to learn about, explore, and discover the universe using theater, writing, and visual art. The newly completed Rising Stargirls Teaching and Activity Handbook is now available for free download at www.risingstargirls.org.