Fall 2011
Astrobiology Public Lecture: Save the Date!
---
Thursday, 23 February 2012
EXTRATERRESTRIAL REAL ESTATE:
Exploring and Assessing the Habitability of Mars' Gale Crater

The Curiosity Rover is now headed for Mars and is scheduled for an August 5th landing. This car-sized rover carries a powerful combination of geological, chemical, and imaging tools designed to spend the next two years investigating the Red Planet's potential habitability. Dr. Conrad will give a presentation and answer questions about the landing site inside Gale Crater and how the scientific team for Curiosity is approaching the exciting task of evaluating whether or not Mars is or has ever been capable of supporting life.
* This event will be free and open to the public. *
---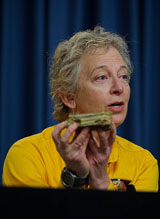 Dr. Pamela Conrad
Planetary Environments Lab,
NASA Goddard Space Flight Center
Dr. Pamela "Pan" Conrad is a Research Space Scientist with the Planetary Environments Lab at the NASA Goddard Space Flight Center in Greenbelt, Maryland. She is deputy Principal Investigator of the Sample Analysis at Mars (SAM) Investigation on the Mars Science Laboratory (MSL) mission, presently en route to Mars, as well as Co-Investigator with the Virtual Planetary Lab (VPL), headquartered at the University of Washington.


Further details (including time and location) of Dr. Conrad's talk will be forthcoming.
Photo: Dr. Pamela Conrad, Courtesy of NASA