Back to Faculty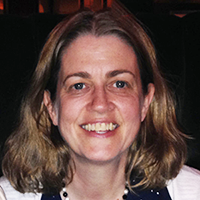 Susan Brockerhoff
Professor of Biochemistry
BS 1987, City University of New York
PhD 1993, University of Washington
Off.: E261 SLU
Ph.: 206.616.9464
Fax: 206.685.1792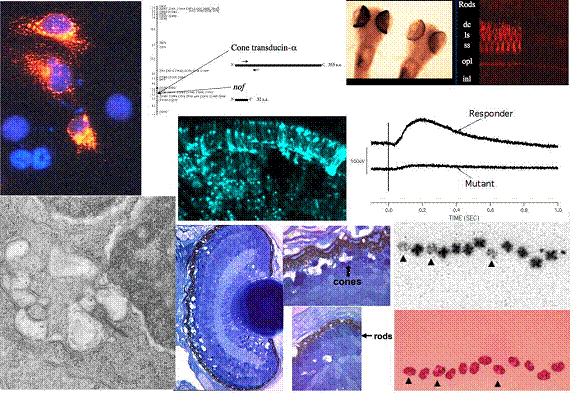 Brockerhoff Lab research data
Research
Summary The overall goal of research in my laboratory is to understand the biology of the cone photoreceptor and apply this information to dissecting the molecular basis of human retinal disease. We use zebrafish as our model system because they have an abundance of cone photoreceptors and because biological problems can be tackled in zebrafish using many different experimental approaches.
Over several years we have identified zebrafish mutants that have impaired vision because of defects in cone photoreceptor structure/function. Mutations we have characterized previously alter unique aspects of the cone photoreceptor biology such as: phototransduction (nof); synaptic transmission (nrc); metabolism (noa); and cell viability (pob, pde6c).
Currently we have three projects in the lab that are all related to characterizing cell death in the pde6c mutant which lacks cone-specific phosphodiesterase. Without pde6c, cone photoreceptors degenerate soon after their formation. Our studies are aimed at dissecting the molecular triggers responsible for cell death. They take advantage of the clarity and genetic tractability of the zebrafish model system and the existing knowledge of the phototransduction signal cascade.
Projects In the absence of phosphodiesterase, cGMP levels increase. The hypothesis is that increases in cGMP lead to excessive Ca2+ influx through the cGMP-gated cation channel in the outer segment plasma membrane and that this triggers apoptosis of photoreceptors. We are evaluating the spatial and temporal changes in Ca2+ that occur prior and during cell death using genetically encoded Ca2+ indicators and live imaging of zebrafish larvae. A second aspect to this project is to use live imaging to evaluate the formation of reactive oxygen species during cone photoreceptor death.
The second project is to characterize a potential "bystander effect" associated with the death of cone photoreceptors. The most familiar example of the bystander phenomenon in vision is the loss of cones in retinitis pigmentosa, a disease where the mutation is present only in rods. The death of rods leads to a subsequent death of wild type (non-mutation carrying) cones, so-called bystanders. Our general strategy is to make mosaic fish containing mixtures of mutant and non-mutant cones to determine what parameters may influence the death of healthy neighbors in the presence of dying cones. Pharmacological and molecular strategies are being used to evaluate the molecular signals involved in this process. Understanding the spread of cell death from mutant to non-mutant cells is not only important for visual disease but is important in other degenerative diseases as well.
The final project is a genetic screen to identify suppressors of cell death in the pde6c background. The strategy is to use fish that are homozygous for the pde6c mutation and also carry a fluorescent protein specifically expressed in photoreceptors. In this mutant fish strain, the cone photoreceptor mosaic is absent due to massive cone degeneration. Dominant and recessive mutations that rescue the photoreceptor mosaic but not vision will be identified through microscopic evaluation, western blot analysis and visual behavior analysis. This project will produce novel insights into the fundamental processes of cone degeneration.
Publications:
Retrieving citations from PubMed, please stand by….