Back to Faculty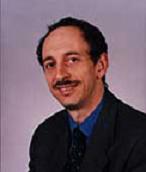 Gabriele Varani
Professor of Biochemistry
Laurea 1982, University of Milano, Italy
Doctorate 1987, University of Milanoy
Ph.: 206.543.7113
Fax: 206.685.8665
Honors
2003-pres. Associate Editor, European Journal of Biochemistry
2004 AAAS Newcomb Cleveland Prize
1998-2001 Editorial Board, Nucleic Acid Research
2001 Gilead Lecture, Sheffield
2000-2001 Visiting Professor, Universita' di Roma
1996-2001 Senior Scientist, MRC-Laboratory of Molecular Biology, Cambridge, England
1997 Founder, Ribotargets Ltd
1987-1989 La Riccia Foundation Post-Doctoral Fellow
Research
Understanding RNA-protein recognition is central to biology. Many steps in the regulation of gene expression in higher organisms occur after transcription and are performed by protein-RNA complexes. The mechanisms by which individual mRNAs are processed, localized and translated into protein at a specific time and location in the cell are fundamental aspects of biology and allow for multiple levels of regulation in response to extracellular or genetic signals. Since most human genetic variation occurs outside protein coding regions, understanding RNA metabolism is also essential to analyze the genetic basis of differential response to treatment or the susceptibility to certain diseases.
We are determining the rules of protein-RNA recognition. RNA-protein complexes constitute the structural and biochemical building blocks of gene expression: the fundamental processes described above are carried out by specific RNA structures and by the proteins that interact with them. By integrating the strengths of NMR spectroscopy with computational and biochemical tools, we are providing structural insight into the molecular interactions and kinetic processes responsible for the formation of functional RNA-protein complexes. By moving beyond a purely phenomenological description, we are not only able to quantitatively address fundamental aspects of biological regulation, but we are also learning how to design new activities (small molecules and redesigned RNA-binding proteins) to control these processes and provide new therapeutic avenues to treat chronic and infectious diseases.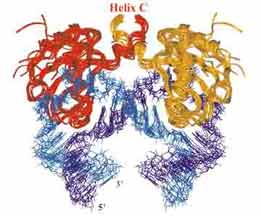 We investigate how proteins belonging to conserved protein families bind RNA as well as other proteins and, by doing so, how they regulate mRNA metabolism and affect critical switches during development and differentiation or gate the response to growth and mitogenic signals. Misregulation of gene expression pathways or their exploitation by pathogens leads to human disease, and we have studied the structural basis for misregulation in replication of HIV and Hepatitis C viruses and in a familial dementia. We are investigating structure-function of telomerase, the ribonucleoprotein complex responsible for maintenance of the physical ends of chromosomes, a critical new target for anticancer therapy. The structures we are pursuing will allow the structure-guided discovery of new inhibitors of this enzyme.
New experimental and computational tools are being developed to achieve these goals. By exploiting new NMR methods, and interfacing closely with computational biology and theoretical chemistry (sequence analysis, homology modeling, structure-based drug design) we will be able to determine structures of increasing complexity and to measure new experimental properties of biological interfaces. Through this, we will obtain unprecedented insight into the structural principles of RNA-protein recognition and therefore their evolution and function. By doing so, we will increasingly improve our ability to design small molecules and proteins that bind RNA-protein complexes and control their function.
Publications:
Retrieving citations from PubMed, please stand by….