Back to Faculty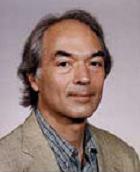 Alan Weiner
Professor of Biochemistry
BA 1968, Yale College
PhD 1973, Harvard University
Ph.: 206.543.1768
Fax: 206.685.9231
Honors
1998 Fellow, American Academy of Microbiology
1990-2000 Editor in Chief, Molecular and Cellular Biology
1976-2000 Yale University School of Medicine
1973-1976 Helen Hay Whitney Postdoctoral Fellow
Research
Our major focus is to understand why defects in the Cockayne Syndrome B helicase protein (CSB) cause a devastating inherited disease characterized by neurological dysfunction, severe post-natal growth failure, and early death. We also continue a related project to understand the causes of human chromosome fragility, in particular why defects in certain genes that are important in normal development (CSB) and/or carcinogenesis (BRCA1 and BRCA2) cause locus-specific fragility of the tandemly repeated genes encoding U1 and U2 small nuclear RNA (the RNU1 and RNU2 loci) and the small 5S ribosomal RNA (the RN5S locus). We are concentrating on three related research areas.
First, it has been known for many years that transcription and repair must come to a halt before metaphase chromosome condensation can occur. We have used genomic footprinting and chromatin immunoprecipitation (ChIP) to examine the chromatin environment of U2 genes in normal and mutant cells. Our data suggest that metaphase chromosome fragility of the U1, U2, and 5S genes in BRCA1-, BRCA2-, and CSB-deficient cells is caused by failure to remove promoter-bound transcription factors as metaphase approaches; the bound factors would then interfere with chromatin condensation locally around small RNA genes, but without affecting the far larger transcription units that encode mRNAs.
Second, although the genes responsible for Cockayne Syndrome (CS) have been implicated in a variety of DNA repair- and transcription-related pathways, the nature of the molecular defect in CS remains mysterious. Using expression microarrays and a new method for comparative expression analysis called L2L, we sought to define this defect in cells lacking functional CSB protein, the SWI/SNF-like ATPase responsible for most cases of CS. Remarkably, many of the genes regulated by CSB are also affected by inhibitors of histone deacetylase and DNA methylation, as well as by defects in poly(ADP-ribose)-polymerase (PARP) and RNA polymerase II elongation. Our data demonstrate that CSB plays a general role in maintenance and remodeling of chromatin structure, and suggest that CS may be a disease of transcriptional deregulation caused by misexpression of growth-suppressive, inflammatory, and proapoptotic pathways.
Third, and most excitingly, we have recently discovered that the 22 exon CSB gene generates a second abundant mRNA encoding a fusion protein in which the first 5 exons of CSB are alternatively spliced in frame to a domesticated PiggyBac-like transposase called PGBD3 which resides within intron 5, and has been conserved for >30 Mya since chimpanzee and Rhesus macaque. We detect the CSB-PGBD3 fusion protein in a variety of human cell lines, including several CS lines that lack intact CSB. Curiously, the complete absence of CSB protein does not cause CS, and almost all mutations that do cause CS occur beyond the exon 5/6 boundary and are recessive. We are deeply intrigued by the possibility that the conserved CSB-PGBD3 fusion protein has been positively selected in primate lineages for host antitransposon defense, but causes CS in the absence of CSB protein. We are currently investigating the structure, function, pathology, and evolutionary history of this novel CSB-PGBD3 fusion protein.
Publications:
Retrieving citations from PubMed, please stand by….