Evaluation and Impact
Description of how the Symposium will be evaluated and its impact assessed
The BRAINS program has held two national Symposia (Jan 2013 and Sept 2014). Each Symposium is followed by BRAINS Mentoring Circles and CCI programs. BRAINS participant cohorts are surveyed annually to assess long-term program impact. The 2013 cohort has completed two annual evaluations. The 2014 cohort will complete its first annual evaluation in Spring 2015.
1. Program Experience
The 2013 and 2014 BRAINS programs have been huge successes. Participants and Symposia panelists reported BRAINS renewed their spirit and commitment to science and has provided a diverse set of tools to apply to their careers.
I feel as though a heavy weight has been lifted and I am more free to move and navigate my career unencumbered by unnecessary fears and insecurities. I feel encouraged that I am not alone in my struggle and I feel supported and lifted by a caring community. 2013 Participant
The BRAINS symposium was by far, the most valuable and enriching symposium I have ever been a part of to date… I must say, you have created something magical. The comments, perspectives and concerns expressed during the past four days are still resonating in my mind and heart. I have an even greater passion now … to continue to share all I have learned to make the paths of others just a bit brighter and lighter. 2013 Panelist
After BRAINS I feel like I have a plan that will allow me to remain in academia. 2014 Participant
The BRAINS program has more ongoing mentorship and follow-up than any of the other programs I've ever done. It makes it far more likely that I'll be reminded of the things I learned and to actually follow through with the changes I wanted to make. 2014 Participant
It was a comprehensive crash course in academic success, scientific and personal integrity, and following your passions that was perfectly timed for where I am in my career and life! 2014 Participant

2. Program Impact
BRAINS participants experience positive and strong impacts on their self-confidence and career satisfaction due BRAINS. Evaluation data highlight the impact of BRAINS on increasing career satisfaction, networking, improving the quality of mentoring relationships, developing career skills and improving sense of belonging within neuroscience.
I knew BRAINS was going to be eye-opening. I didn't know it was going to be soul-opening. 2014 participant

a. Career Satisfaction
2013 BRAINS Participants reported increased satisfaction in their career progression one and two years post-BRAINS.
Hearing the stories of others enlightened me to the possibilities ahead. There is no set path and most barriers can be circumvented. I feel encouraged and motivated to take my challenges head on knowing that I am not alone in my journey. 2013 Participant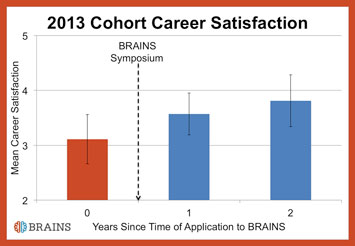 b. Networking and Mentoring
2013 BRAINS participants reported significantly increased participation in ten different networking and mentoring activities due to BRAINS.
Formal and informal research groups
Department and/or campus committees
Collaborations with colleagues on proposals, papers and/or projects
Professional development workshops and/or activities
Professional meetings
Career progress or career issues discussions with peers and/or mentors
Work/life balance discussions with peers and/or mentors
Constructive feedback from peers and/or mentors
Career support from peers and/or mentors
Career support with peers with my same group membership (race/ethnicity, disability status, and/or socially, culturally, economically, or educationally disadvantaged background)
I now have a strong network of minority scientists who I can both relate to and to whom I can give and from whom I can receive advice. The people I met at BRAINS are able to understand my experiences and relate to me, thus their advice is more pertinent. 2013 Participant

c. Career Skills
Both one and two years after time of application, 2013 participants reported significantly increased confidence in nine aspects of important career skills including:
Write successful research proposals.
Effectively lead a resarch lab.
Manage a research budget.
Navigate the political environment of my institution.
Prepare for tenure review.
Negotiate my promotion/tenure process.
Advocate for a satisfactory job offer.
Find people who can help me navigate being underrepresented in the field of neuroscience.
Balance work and personal demands.
BRAINS has provided me with a framework and made me aware of the things I need to do to be successful. 2014 participant

d. Sense of Belonging
Both one and two years after time of application, 2013 BRAINS participants reported significantly increased sense of belonging due to BRAINS including:
I have built strong relationships with a sufficient number of colleagues/peers in my field.
I regularly feel included in networks within my institution.
I regularly feel included in networks in my professional societies.
My networks adequately support research collaborations.
I feel connected to other scientists in my research areas.
Meeting the other BRAINS participants definitely made me feel like I belong in the field of neuroscience. Just meeting the others and getting their thoughts and perspectives made me feel less isolated. 2013 Participant
I feel encouraged to take my challenges head on knowing that I am not alone in my journey. 2013 Participant