CENTC High School Class Visits

Researchers are available for high school class visits to present and discuss the importance of chemistry in the synthesis of materials important to our economy. Visits include hands-on activities and information and discussion about chemistry careers. Fieldtrips for chemistry classes or clubs to visit CENTC labs for tours and hands-on activities are also available.

Rutgers University, Piscataway, NJ
The LEEDAR (Learning Enhanced through Experimental Design and Analysis with Rutgers) Program is an interactive program that integrates outreach and mentoring with education on greenhouse gases and global warning. Click here to learn more about the program.
University of Michigan, Ann Arbor, MI
CENTC graduate students have partnered with the IDEA Institute to host Science Saturdays. The program brings 9-12 grade students from the Metro Detroit area to the University of Michigan campus for an intensive all day event where they participate in several activites that introduce them to methods used in contemporary research in chemistry. See the IDEA Institute website for more information.
University of Washington, Seattle, WA
Graduate students and post-doctoral fellows have developed a three-day program on biofuels for physical sciences and chemistry classes. The program is designed to support and enhance the curriculum currently taught in high school chemistry, and also to convey the broad impact of chemistry and the role of chemists in solving major issues of societal importance.


North Carolina State University, Raleigh, NC
Graduate students and faculty visit high school classes for an interactive session on biofuels, followed by a visit and tour of the NCSU chemistry department. The participating teachers are also invited to work with NCSU researchers to develop experiments related to "green" chemistry for implementation in the chemistry curriculum.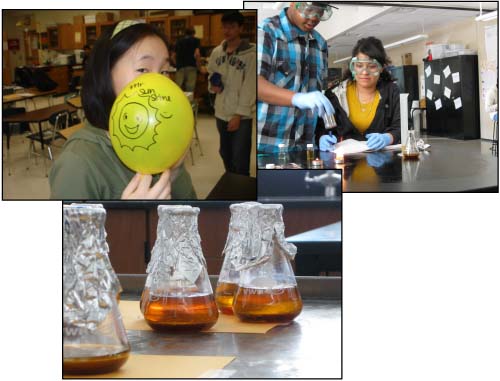 Click here to view our presentation "What Comes From Oil?"

For information on any of these visits, or other CENTC educational programs, please contact Eve Perara, CENTC Director of Diversity, Education and Outreach.