Anti-Markovnikov Hydroamination of Alkenes
---
Senior Investigators: Prof. John Hartwig (UC-Berkeley), Prof. Karen Goldberg (U. Wash.).
The discovery of efficient catalysts for the hydroamination of alkenes could have a tremendous impact on the synthesis of pharmaceuticals, of fine chemicals and of commodity chemicals. Especially desirable would be a process that allows the selective formation of the anti-Markovnikov product. The Hartwig and Goldberg laboratories are collaborating to find solutions to this challenging and as yet unsolved synthetic problem.

To develop catalysts for the direct, anti-Markovnikov hydroamination of alkenes, elementary reactions that form C(sp3)-N bonds from metal-akyl complexes or form the C(sp3)-N bonds in aminoalkyl complexes are needed. These reactions are the challenging steps of two potential catalytic cycles for anti-Markovnikov hydroamination shown below.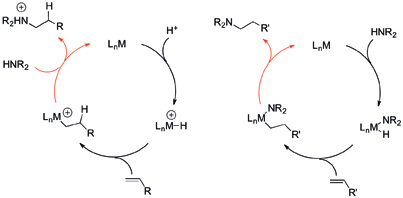 Published Papers:


Marquard, S. L.; Hartwig, J. F. "C(sp3)-O Bond-Forming Reductive Elimination of Ethers from Bisphosphine-Ligated Benzylpalladium(II) Aryloxide Complexes"

Angew. Chem. Int. Ed. Eng.

,

2011

,

50

, 7119-7123.
(DOI: 10.1002/anie.201101088)


Marquard, S. L.; Rosenfeld, D. C.; Hartwig, J. F., "C(sp3)-N Bond-Forming Reductive Elimination of Amines: Reactions of Bisphosphine-Ligated Benzylpalladium(II) Diarylamido Complexes", Angew. Chem. Int. Ed. Eng., 2010, 49, 793-796.
(DOI 10.1002/anie.200904032)