Cyclization of Alkanes to form Aromatic Molecules
---
Senior Investigators: Prof. Alan Goldman (Rutgers), Prof. Maurice Brookhart (UNC-CH)
The importance of aromatic molecules cannot be overstated. Three of the "seven basic building blocks of the chemical industry" (benzene, toluene, and xylene; BTX) are aromatic.* These are currently obtained as by-products from reforming; as the world's fuel supply shifts from gasoline to diesel they will be in increasingly short supply. As Fischer-Tropsch chemistry becomes more widespread (whether it is based on syngas from coal, methane, biomass or other) there will be decreased direct production of aromatics; but conversely, F-T production offers a new feedstock with great potential, namely n-alkanes.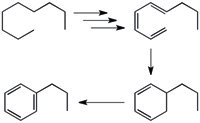 The potential for organometallic catalysts to effect the transformation of n-alkanes to aromatics is a possibility due to CENTC research in the Brookhart and Goldman labs with pincer-iridium dehydrogenation catalysts. CENTC has developed methods for converting linear hydrocarbons to aromatics via successive dehydrogenations to linear trienes, which cyclize to cyclohexadienes and are then further dehydrogenated to aromatics. Thus n-hexane yields benzene, n-heptane yields toluene, and n-octane yields o-xylene and ethylbenzene. High n-alkanes yield predominantly n-akyl toluenes. Only a small subset of pincer-Ir catalysts are active for dehydroaromatization, and work is currently underway to elucidate the catalyst properties that determine dehydroaromatization activity and selectivity.

Progress has also been made in devising a selective, economical synthesis of para-xylene through disproportionation of hexene and hexane and 2,4-hexadiene, followed by Diels-Alder reaction of the diene with ethylene to yield 1,4-dimethylcyclohexane, which can be dehydrogenated to para-xylene.

*Wittcoff, H. A.; Reuben, B. G.; Plotkin, J. S., Industrial Organic Chemicals. 2nd ed.; Wiley-IEEE: 2005.

Patents and Published Papers:

Ahuja, R.; Punji, B.; Findlater, M.; Supplee, C.; Schinski, W.; Brookhart, M.; Goldman, A. S. "Catalytic Dehydroaromatization of n-Alkanes by Pincer-Ligated Iridium Complexes", Nature Chem., 2011, 3, 167-171.
(DOI: 10.1038/nchem.946)

Brookhart, M.; Findlater, M.; Guironnet, D. "Synthesis of para-xylene and toluene", Patent filed 11/02/2010, application number 61/409,328.