Increased production of biodiesel has resulted in increased quantities of glycerol and a consistent decrease in its market cost, making glycerol an ideal feedstock. Glycerol has the potential to serve as an environmentally benign reagent in a host of chemical transformations leading to a variety of oxygen rich and reduced chemicals with added value. However, there are few industrially-viable methods of converting high-purity glycerol into value-added products, due to the complex reactivity patterns it exhibits under reaction conditions. The development of selective conversions of glycerol will lead to its increased demand, which would significantly reduce the overall cost of biodiesel.

We are specifically interested in developing a selective, catalytic processes for the deoxygenation of glycerol to 1,3-propandiol and 1,2-propanediol, which are commodity chemicals used in liquid detergents, in cosmetics, and in the production of specialty polyester films, coatings, and fibers su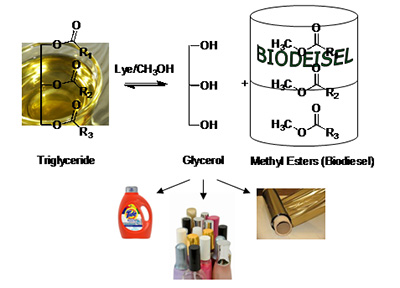 ch as polypropyleneterephtalate (PPT). Our approach surveys the reactivity of homogeneous late and early transition complexes with model polyol complexes that exhibit simplified reactivity patterns. Elucidation of the roles reaction conditions and catalyst properties play in manipulating the reactivity patterns of model polyols and key reaction intermediates will enable the design more efficient catalytic system for selective glycerol deoxygenations.