Catalysis to Convert Carbohydrates to Value-Added Chemicals
---
Senior Investigators: Prof. James Dumesic (U. Wisc.), Prof. Karen Goldberg (U. Wash.), Prof. Michael Heinekey (U. Wash.), Prof. Susannah Scott (UCSB), Prof. Huimin Zhao (UI-UC).
In the US, the availability of non-food dry biomass is estimated at 1.3 billion tons annually, representing the energy equivalent of 3 billion barrels of liquid transportation fuel. Unlocking this natural resource could have major ramifications for both national security and global warming. One of the major biomass components suitable for feedstock use is carbohydrates. Unfortunately, the chemical catalysts developed for processing of petroleum-based feedstocks usually do not work well with carbohydrates. CENTC is using combined chemical, biochemical, and reaction engineering approaches to the design of new catalytic transformations of carbohydrates for production of renewable chemicals and fuels. We are investigating catalytic processes for selective transformations of carbohydrates to produce value-added chemicals such as furfural, 5-hydroxymethylfurfural (HMF), L-xylulose, and xylitol. We focus on mechanistic understanding with a goal of establishing a common framework for catalytic applications to selective transformations of carbohydrates.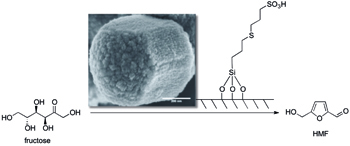 Patents and Published Papers:

Du, J.; Shao, Z.; Zhao, H.; "Engineering a Microbial Factory for Synthesis of Value-added Products", J. Ind. Microbiol. Biotechnol., 2011, 38, 873-890.
(DOI: 10.1007/s10295-011-0970-3)

Zhao, H.; Nair, N. U.; Racine, M.; Woodyer, R. "Production of Xylitol from a Mixture of Hemicellulosic Sugars by Engineered Strains of Escherichia coli", PCT Int. Appl. (2011), 73pp. CODEN: PIXXD2 WO 2011-US21277.

Zhao, H.; Nair, N. U. "Xylose reductase mutants and uses thereof", PCT Int. Appl. (2009), 39pp. CODEN: PIXXD2 WO 2009009668 A2 20090115.

Crisci, A. J.; Tucker, M. H.; Dumesic, J. A.; Scott, S. L. "Acid-Functionalized SBA-15-Type Silica Catalysts for Carbohydrate Dehydration", ACS Catalysis, 2011, 1, 719-728.
(DOI: 10.1021/cs2001237)
Crisci, A. J.; Tucker, M. H.; Dumesic, J. A.; Scott, S. L. "Functionalized periodic mesoporous silica catalysts for the selective dehydration of carbohydrates"

Prepr. Pap.-Am. Chem. Soc., Div. Pet. Chem.

,

2011

,

56

, 148-149.


O'Connor, A. R.; Kaminsky, W.; Heinekey, D. M.; Goldberg, K. I. "Synthesis, Characterization, and Reactivity of Arene-Stabilized Rhodium Complexes",

Organometallics

,

2011

,

30

, 2105-2116.
(DOI: 10.1021/om1009473)


Nair, N. U.; Denard, C. A.; Zhao, H., "Engineering of Enzymes for Selective Catalysis", Curr. Org. Chem., 2010,

14

, 1870-1882.
(DOI:10.2174/138527210792927537)


Nair, N. U.; Zhao, H., "Selective reduction of xylose to xylitol from a mixture of hemicellulosic sugars", Metab. Eng , 2010, 12, 462-468.
(DOI: 10.1016/j.ymben.2010.04.005)
Crisci, A. J.; Tucker, M. H.; Dumesic, J. A.; Scott, S. L., "Bifunctional Solid Catalysts for the Selective Conversion of Fructose to 5-Hydroxymethylfurfural", Topics in Catalysis, 2010, 53, 1185-1192.
(DOI: 10.1007/s11244-010-9560-2)