The UW CFAR International Core offers assistance in field advance administration and training.
We provide:
investigator training on field advances
field advance administration
advice on transfer of funds to overseas sites
advice on obtaining federal wide assurance numbers (FWAs)
If you have a UW-affiliated international AIDS-related research project, and you would like to request assistance with field advance administration, please contact cfarintl at uw.edu.
*Some services may require a small contribution of FTE, depending on the amount of support needed and the resources available to the investigator.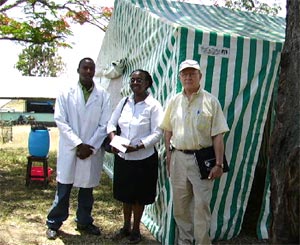 Norton Sang, Elizabeth Bukusi and King Holmes at a Fisherman Study site tent in Kenya.