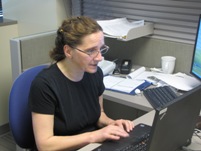 Principal Staff Scientist, Program in Biostatistics and Biomathematics, Division of Public Health Sciences, Fred Hutchinson Cancer Research CenterAffiliate Associate Professor, Department of Biostatistics, University of WashingtonAffiliate Associate Professor, Department of Global Health, University of Washington
CFAR Role:
Director, Biometrics Core
Research Interests:
Mathematical and statistical modeling of time-varying biological processes
Education:
Ph.D., Mathematics, University of Oregon, 1990
M.A., Mathematics, University of Oregon, 1987
B.A., Mathematics, University of Minnesota, 1984
Selected Publications:
Holte S, Emerman M.  A Competition Model for Viral Inhibition of Host Cell Proliferation.  Math Biosciences 2000;166:69-84.
Zhu T, Holte S, Chang YH, Nickle D, Feng F, Muthui D,.Brodie S, Mullins J, Corey L. Evidence for human immunodeficiency virus type 1 replication in vivo in CD14(+) monocytes and its potential role as a source of virus in patients on highly active antiretroviral therapy.  J Viro. 2002;76(2):707-16.
Little SJ, Holte S, Routy JP, Daar ES, Markowitz M, Collier AC, Koup RA, Mellors JW, Connick E, Conway B, Kilby M, Wang L, Whitcomb JM, Hellmann NS, Richman DD.  Antiretroviral-drug resistance among patients recently infected with HIV.  N Engl J Med. 2002 Aug 8;347(6):385-94.
Banks HT, Bortz DM, Holte SE.  Incorporation of variability into the modeling of viral delays in HIV infection dynamics.  Math Biosci 2003;183(1):63-91.
Wang CC, Holte SE, Huang ML,Engelberg R, Ferrenberg J, Sacks S, Gung Y, Shuhart M, Corey L.  Kinetics of hepatitis B viral load during 48 weeks of treatment with 600 mg vs 100 mg of lamivudine daily.  J Viral Hepat 2004;11(5):443-7.
Holte S, Frenkel L, Melvin A, Mullins J.  Density Dependant Decay in HIV-1 Dynamics.  JAIDS 41(3):266-76, 2006.
Hecht FM, Collier A., Wang L, Margolick J, Little S, Markowtiz M, Kilby JM, Daar E, the AIEDRP Network, and Holte S. A Multicenter Observational Study of the Potential Benefits of Initiating Combination Antiretroviral Therapy During Acute HIV Infection. Journal of Infectious Disease 2006. 194(6):725-33
Graham SM, Holte SE, Peshu N, Richardson BA, Panteleef D, Jaoko W, Ndinya-Achola J, Mandaliya K, Overbaugh J, McClelland R.S. Initiation of antiretroviral therapy leads to rapid decline in HIV-1 shedding in cervical and vaginal secretions.  AIDS 2007 21(4):501-7.
Soto RJ, Ghee AE, Nunez CA, Mayorga R, Tapia KA, Astete SG, Hughes JP, Buffardi AL, Holte SE, Holmes KK; Estudio Multicentrico Study Team.  Sentinel surveillance of sexually transmitted infections/HIV and risk behaviors in vulnerable populations in 5 Central American countries.  J Acquir Immune Defic Syndr. 2007 Sep 1;46(1):101-11.  PMID: 17972366.
Mei Y, Wang L, Holte S. A comparison of methods for determining viral set point during acute HIV-1 infection. Statistics in Medicine 2008 27(1):121-39.
Stekler J, Sycks BJ, Holte S, Maenza J, Stevens CE, Dragavon J, Collier AC, Coombs RW.  HIV dynamics in seminal plasma during primary HIV infection.  AIDS Res Hum Retroviruses. 2008 Oct;24(10):1269-74.  PMID: 18844461
Bull M, Learn G, Genowati I, McKernan J, Hitti J, Lockhart D, Tapia K, Holte S, Dragavon J, Coombs R, Mullins J, Frenkel L. Compartmentalization of HIV-1 within the female genital tract is due to monotypic and low-diversity variants not distinct viral populations. PloS One. 2009 4(9) e7122. PMID: 19771165
Bull ME, Learn GH, McElhone S, Hitti J, Lockhart D, Holte S, Dragavon J, Coombs RW, Mullins JI, Frenkel LM. Monotypic human immunodeficiency virus type 1 genotypes across the uterine cervix and in blood suggest proliferation of cells with provirus. Journal of Virology 2009 83(12):6020-8. PMID: 19339344
Graham S, Holte S, Kimata J, Kuller L, Wener M, Overbaugh J. A decrease in albumin in early SIV infection is related to viral pathogenicity. AIDS Research and Human Retroviruses 2009 25(4):433-40 PMID: 19320603
Voronin Y, Holte S, Overbaugh J, Emerman M. Genetic Drift of HIV Populations in Culture. PLoS Genetics. 2009 5(3):1000431
Links:
http://myprofile.cos.com/SarahHolte
Contact:
Phone:
(206) 744-3647
(206) 744-3647
E-mail: sholte
 at 
fredhutch.org