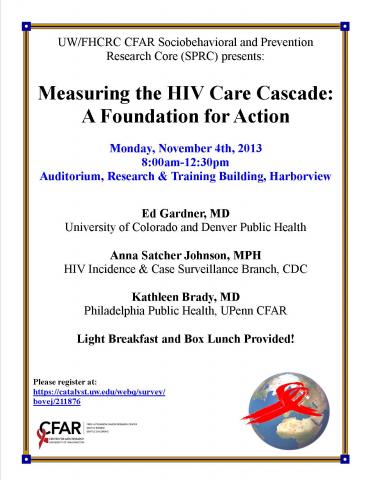 Mark your calendars!
The Sociobehavioral and Prevention Research Core at the UW/FHCRC Center for AIDS Research presents:
"Measuring the HIV Care Cascade: A Foundation for Action" 
With
Ed Gardner, MD
University of Colorado and Denver Public Health
Anna Satcher Johnson, MPH
HIV Incidence & Case Surveillance Branch, CDC
Kathleen Brady, MD
Philadelphia Public Health and UPenn CFAR
Date:  Monday, November 4th
Time:  8:00am -12:30pm
Place:  Auditorium, Research & Training Building
Located on Ninth Avenue between Jefferson and Alder Streets 300 Ninth Avenue Seattle, WA 98104  
Light breakfast and lunch provided with registration!
Please register at https://catalyst.uw.edu/webq/survey/bovej/211876.
For more information, please contact Joanna Bove, bovej at uw.edu.