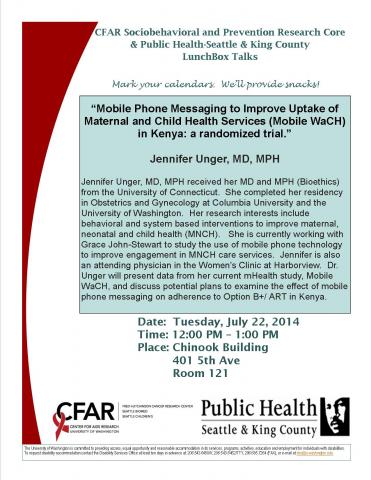 UW/FHCRC CFAR Sociobehavioral and Prevention Research Core (SPRC) & Public Health-Seattle & King County LunchBox Talks Presents:
 
"Mobile Phone Messaging to Improve Uptake of Maternal and Child Health Services (Mobile WaCH) in Kenya: a randomized trial."
 
Jennifer Unger, MD, MPH
 
Jennifer Unger, MD, MPH received her MD and MPH (Bioethics) from the University of Connecticut.  She completed her residency in Obstetrics and Gynecology at Columbia University and the University of Washington.  Her research interests include behavioral and system based interventions to improve maternal, neonatal and child health (MNCH).   She is currently working with Grace John-Stewart to study the use of mobile phone technology to improve engagement in MNCH care services.  Jennifer is also an attending physician in the Women's Clinic at Harborview.  Dr. Unger will present data from her current mHealth study, Mobile WaCH, and discuss potential plans to examine the effect of mobile phone messaging on adherence to Option B+/ ART in Kenya.  
 
Date:  Tuesday, July 22, 2014
Time: 12:00 PM – 1:00 PM
Place: Chinook Building, 401 5th Ave, Room 121
 
Mark your calendars.  We'll provide snacks!
Recording of the event will be available on the following website: https://depts.washington.edu/cfar/SPRC_Lunch_box_Series
If you have any questions, please contact Joanna Bove (bovej@uw.edu).