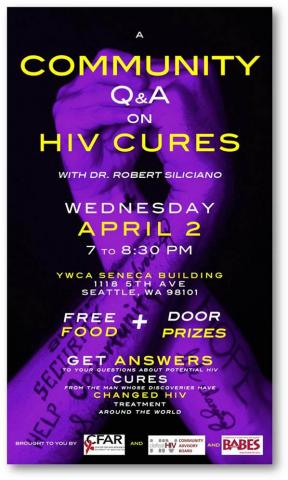 BABES-YWCA, in collaboration with the UW Center for AIDS Research and the defeatHIV Community Advisory Board, will be hosting an event around all the research going on to cure HIV.
 A Community Q & A on HIV Cures 
Wednesday, April 2nd  
7 to 8:30 PM
 YWCA Seneca Building
1118 5th  Avenue (corner of 5th and Seneca)
Seattle, WA 98101
 Like the Facebook event page:  https://www.facebook.com/events/515545308556203/?context=create&source=49
This event is perfect for anyone who has questions about curing HIV or who wants to learn more about what is happening in the new field of HIV cure research.
And it will be a rare opportunity for you to get answers to your questions about potential HIV cures from the man whose discoveries have changed HIV treatment around the world: Dr. Robert Siliciano.
 Siliciano's research made it clear that antiviral drugs alone won't be enough to cure the infection, identifying back in 1997 what we now know as 'the latent reservoir" of HIV.
 His group is currently searching for drugs that will wake up this latent virus so that the infected cells can be identified and eliminated.
They are also working on ways to measure the reservoir in patients, something that is very difficult to do because the number of latently infected cells is very low (about one in a million)
Nina Shaprio, Science Editor for the Seattle Weekly, will be our host for the evening,  introducing and asking some questions of Dr. Siliciano about the different paths toward a cure being investigated, and then directing the flow of conversation for the audience. 
 There will be free food, plus a raffle for some door prizes.
The event is free, and no RSVP required.
 All are welcome.