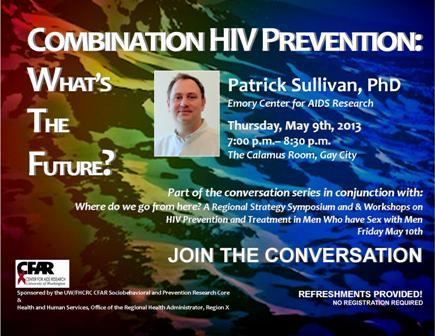 In conjunction with the Regional Strategy Symposium and Workshops on HIV in MSM on May 10th...
The Sociobehavioral and Prevention Research Core with HHS- Office of the Regional Health Administrator (Region X) HIV Regional Resource Network Program Presents:
Combination HIV Prevention: What's the Future?
Patrick Sullivan, PhD.
Emory Center for AIDS Research
Thursday, May 9th, 2013
7:00pm – 8:30pm
The Calamus Room, Gay City
511 E. Pike St.
Refreshments provided, no registration required.
For more information, contact Joanna Bove at bovej at uw.edu