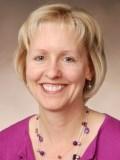 Location: Arnold Suite M1-A305 
Speaker: Cara C. Wilson, MD
Professor of Medicine and Immunology
Vice Chair for Faculty Advancement, Department of Medicine
Division of Infectious Diseases
University of Colorado Denver
Dr. Wilson attended medical school at the University of Virginia School of Medicine. Afterwards, she completed her residency in Internal Medicine at Johns Hopkins Hospital and a fellowship in Infectious Diseases at Massachusetts General Hospital. She is currently a Professor in the Divisions of Infectious Diseases and Clinical Immunology at the University of Colorado School of Medicine. Her laboratory focuses on human immune response to HIV-1 infection and the factors that drive HIV-1 pathogenesis, particularly in the gut mucosa.
Add this seminar to your calendar! Outlook/iCalendar - Google Calendar
A live webcast can be viewed at https://uwmedical.adobeconnect.com/cfar.