Location: Pelton Auditorium, Fred Hutchinson Cancer Research Center

Title: Using Behavioral Economics to Better Understand (and Improve) HIV-related Behaviors

Speaker: Sebastian Linnemayr, PhD
Professor, Pardee RAND Graduate School
Senior Economist, RAND Corporation

Sebastian Linnemayr, PhD is a Senior Economist at the RAND Corporation, a Professor at the Pardee RAND Graduate School, and is co-leading the HIV Research Group at RAND. His research focuses on the use of economic incentives and the application of insights from behavioral economics to improve complex, chronic health behaviors, in particular HIV. He travels frequently to Uganda where he is implementing several interventions funded by the National Institutes of Health to increase medication adherence among people living with HIV. Dr. Linnemayr has presented his work at national and international conferences and meetings, including the International AIDS Conference and the NIH Adherence Network Distinguished Speaker Series.
Add this event to your calendar!    Outlook/iCalendar - Google Calendar - Facebook Event
CFAR Seminar Flyer - April 2018.pdf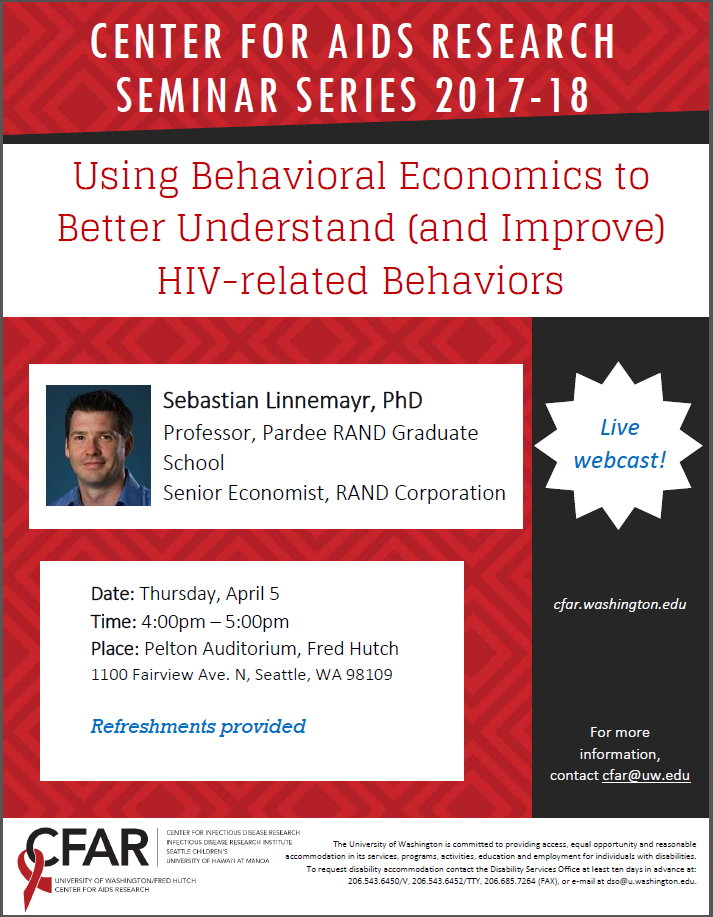 For more information, please email cfar@uw.edu.