Title: AIDS & HIV Retrospective
Location: Harborview Ninth and Jefferson Building, Room 1309
Date/Time: Tuesday, March 20, 2018  /  12:00pm-1:00pm
Please join the CFAR Sociobehavioral and Prevention Research Core and Public Health - Seattle/King County HIV/STD Program for another Lunchbox Talk featuring Robert Wood, MD. Dr. Wood is a Clinical Professor with the University of Washington Department of Medicine and former HIV/AIDS Control Officer. Snacks provided!
Dr. Wood will talk about the early days of AIDS locally, the development of a new HIV/AIDS Program within Public Health - Seattle & King County, some of the more interesting events in local AIDS control, and about the social impact of this disease on our larger society.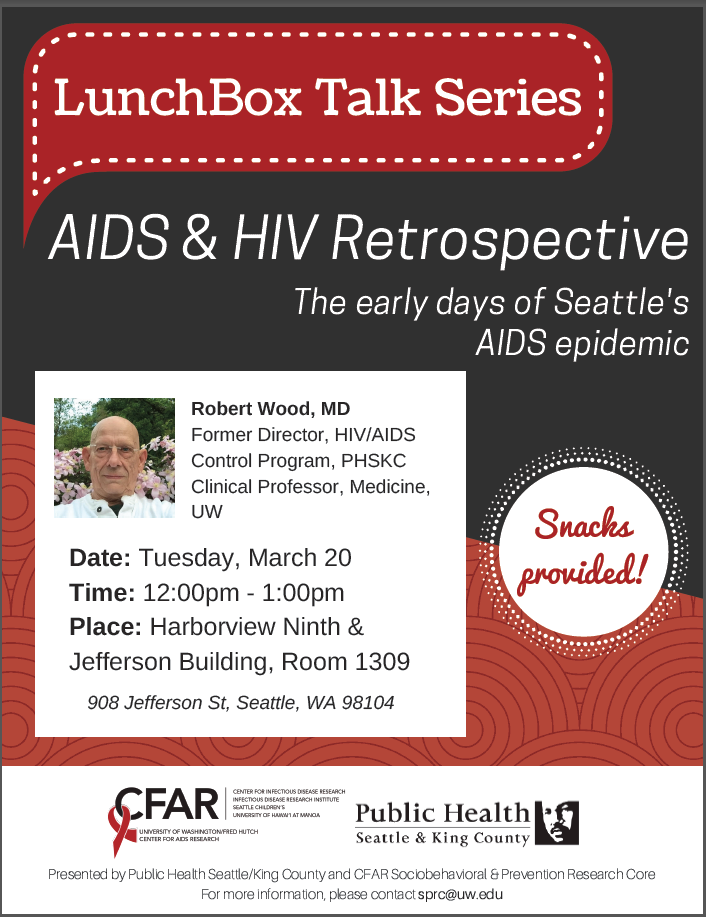 Add this event to your calendar!    Outlook/iCalendar - Google Calendar
If you have any questions, please contact sprc@uw.edu.
You may find the link to this lecture's recording, and previous lecture's recordings on the CFAR website here: http://depts.washington.edu/cfar/SPRC_Lunch_box_Series