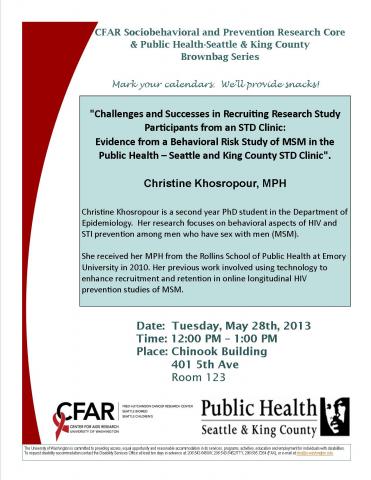 UW/Fred Hutch CFAR Sociobehavioral and Prevention Research Core (SPRC) & Public Health-Seattle & King County Brownbag Series Presents:
"Challenges and Success in Recruiting Research Study Participants from an STD Clinic: Evidence from a Behavioral Risk Study of MSM in Public Health—Seattle and King County STD Clinic."
Christine Khosropour, MPH, PhDc
Christine is a second year PhD student in the Department of Epidemiology. Her research focuses on behavioral aspects of HIV and STI prevention among men who have sex with men (MSM). She received her MPH from the Rollins School of Public Health at Emory University in 2010. Her previous work involved using technology to enhance recruitment and retention in online longitudinal HIV prevention studies of MSM.
Date: Tuesday, May 28th, 2013
Time: 12:00 PM – 1:00 PM
Place: Chinook Building, 401 5th Ave, Room 123
Mark your calendars. We'll provide snacks! If you have any questions, please contact Joanna Bove (bove at uw.edu).