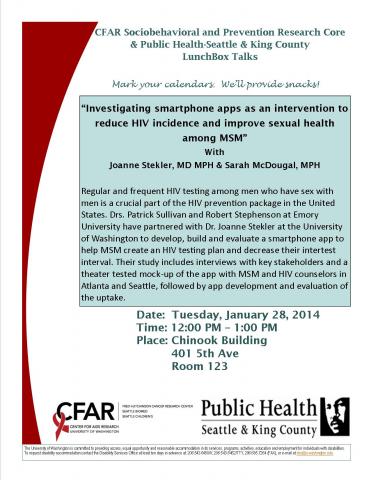 UW/Fred Hutch CFAR Sociobehavioral and Prevention Research Core (SPRC) & Public Health-Seattle & King County LunchBox Talks Presents:
"Investigating smartphone apps as an intervention to reduce HIV incidence and improve sexual health among MSM"
With Joanne Stekler, MD MPH & Sarah McDougal, MPH
Regular and frequent HIV testing among men who have sex with men is a crucial part of the HIV prevention package in the United States. Drs. Patrick Sullivan and Robert Stephenson at Emory University have partnered with Dr. Joanne Stekler at the University of Washington to develop, build and evaluate a smartphone app to help MSM create an HIV testing plan and decrease their intertest interval. Their study includes interviews with key stakeholders and a theater tested mock-up of the app with MSM and HIV counselors in Atlanta and Seattle, followed by app development and evaluation of the uptake.
Joanne Stekler is an Associate Professor of Medicine at the University of Washington. She is working to expand routine HIV antibody testing and access to pooled HIV nucleic acid amplification testing to diagnose acute HIV infection. She leads several studies investigating novel methods to diagnose acute and early HIV infection; comparisons of rapid HIV tests; and home, self-testing for HIV infection. Dr. Stekler's interests include interdisciplinary research to understand factors associated with HIV transmission, consequences of transmitted drug resistance, viral dynamics following HIV acquisition, and clinical outcomes of antiretroviral therapy during primary HIV infection.
Sarah McDougal works with Dr. Stekler to coordinate her many research projects. Ms. McDougal has been particularly involved in an ongoing project with Emory University to build and evaluate a smartphone app designed to increase the frequency of HIV testing among MSM.
Date:  Tuesday, January 28, 2014
Time: 12:00 PM ­ 1:00 PM
Place: Chinook Building, 401 5th Ave, Room 123
Mark your calendars.  We¹ll provide snacks!
If you have any questions, please contact Joanna Bove (bovej@uw.edu).