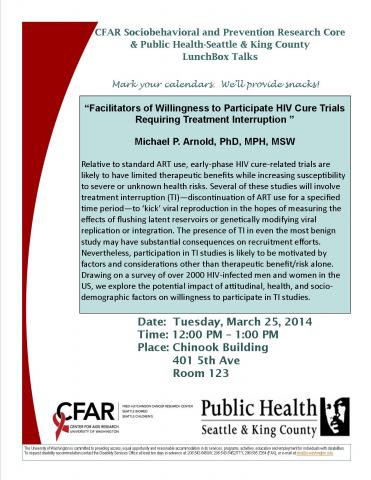 UW/FHCRC CFAR Sociobehavioral and Prevention Research Core (SPRC) & Public Health-Seattle & King County LunchBox Talks Presents:
"Facilitators of Willingness to Participate HIV Cure Trials Requiring Treatment Interruption"
Michael P. Arnold, PhD MPH MSW
Relative to standard ART use, early-phase HIV cure-related trials are likely to have limited therapeutic benefits while increasing susceptibility to severe or unknown health risks. Several of these studies will involve treatment interruption (TI)—discontinuation of ART use for a specified time period—to 'kick' viral reproduction in the hopes of measuring the effects of flushing latent reservoirs or genetically modifying viral replication or integration. The presence of TI in even the most benign study may have substantial consequences on recruitment efforts. Nevertheless, participation in TI studies is likely to be motivated by factors and considerations other than therapeutic benefit/risk alone. Drawing on a survey of over 2000 HIV-infected men and women in the US, we explore the potential impact of attitudinal, health, and socio-demographic factors on willingness to participate in TI studies.
Michael P. Arnold is a faculty member and Staff Scientist in the Vaccine and Infectious Disease Division at Fred Hutchinson Cancer Research Center. His research addresses multiple aspects of health and health-related disparities, with a focus on structural determinants, policies and interventions. Dr. Arnold's work in clinical research explores ethical, pragmatic and other considerations related to engagement and participation in clinical trials. A central goal of this work is to increase community awareness of, input into and support for clinical trial research. Dr. Arnold's non-clinical research explores economic, social, and policy factors that affect HIV transmission dynamics and disparities.  
Date: Tuesday, March 25, 2014
Time: 12:00 PM ­ 1:00 PM
Place: Chinook Building, 401 5th Ave, Room 123
Mark your calendars.  We¹ll provide snacks!
If you have any questions, please contact Joanna Bove (bovej@uw.edu).