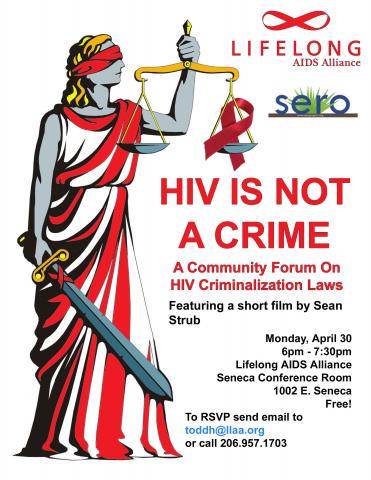 Join us to explore HIV Criminalization with Sean Strub, Founder and Advisory Editor of POZ, producer and film maker, and Award Winning HIV/AIDS activist!!
Lifelong AIDS Alliance will be hosting a panel discussion on HIV Criminalization.  We will be showing a short documentary film by Sean Strub, HIV is Not a Crime followed by an interactive panel discussion.  
Sean's film does a wonderful job of explaining the issue of HIV Criminalization and how these laws are arbitrarily applied to gay men and people of color.  In the United States alone, 37 states, including Washington have such statues; Wash. Rev. Code Ann. § 9A.36.011 (Assault in the first degree) is Class A Felony.
We hope to educate the community about these laws, offer tips for sexually active HIV positive people to protect themselves and begin a conversation about steps to eliminate this law. The evening will include
Viewing of the short film by Sean Strub, HIV is Not a Crime followed by an interactive panel discussion addressing:
The impact of HIV criminalization laws on people living with HIV
How these laws are arbitrarily applied to gay men and people of color
Washington's HIV criminalization law and history
Take action: creating a plan to eliminate this law in Washington
Location: Seneca Conference Room at Lifelong AIDS Alliance, 1002 East Seneca
Panel:   Sean Strub, Activist and Filmmaker
                Renee McCoy, PhD, Senior Prevention Manager, Lifelong AIDS Alliance
                BJ Cavnor, Director of Policy and Advocacy, Lifelong AIDS Alliance
This is a free program, however because of limited space we are asking people to please RSVP.  ALL ARE WELCOME. Please email Todd Hull , Men's Outreach Specialist at Lifelong AIDS Alliance or call him at (206)957-1703