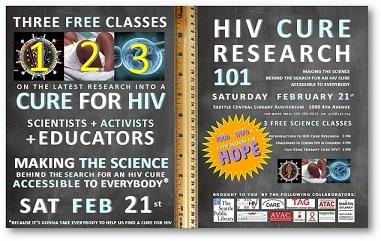 Location: Seattle Public Library, 1000 Fourth Ave
Join us for three sessions outlining the latest science behind the research into a cure for HIV.
3 PM - Intro to HIV Cure Research
4 PM - Challenges to Curing HIV in Children
5 PM - Can Gene Therapy Cure HIV?
The goal of this program is to make the science of HIV cure research accessible to everyone.  It not only offers a chance to better understand the research efforts towards a cure, but also to meet some of the cure researchers who've been in the news.  
The presenters will share 3 HIV Cure Research training modules currently being developed by an international group of community educators from advocacy organizations, community advisory board members and leading researchers in the field.
These modules cover the scientific strategies being pursued toward an HIV cure, some of the ethical concerns for potential participants around this research, and issues specific populations like pediatrics might face.
The three sessions are independent, and the public is welcome to attend one or all of them.  The first is an introduction, the second discusses challenges in finding a cure for children with HIV, and the third treats the question of genetic therapies, which are a specific focus of several Seattle researchers.
This program is hosted in association with the defeatHIV Community Advisory Board, Delaney AIDS Research Enterprise (DARE); Collaboratory of AIDS Researchers for Eradication (CARE); AIDS Vaccine Advocacy Coalition (AVAC); AIDS Treatment Activists Coalition (ATAC); Treatment Action Group (TAG); Project Inform; Sidaction; National Association of People Living With HIV Australia (NAPWHA), and the Martin Delaney Collaboratories' National Community Advisory Board (MDC Nat'l CAB).