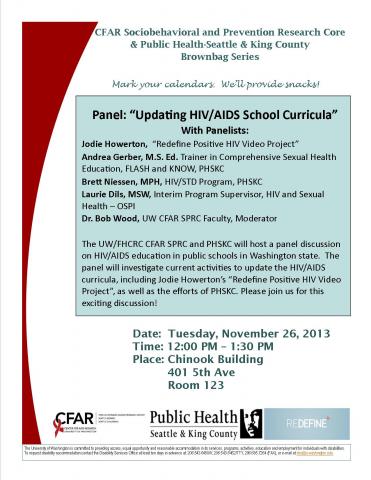 UW/FHCRC CFAR Sociobehavioral and Prevention Research Core (SPRC) & Public Health-Seattle & King County Brownbag Series Presents:
Panel: "Updating HIV/AIDS School Curricula"
With Panelists:
Jodie Howerton,
"Redefine Positive HIV Video Project"
Andrea Gerber, M.S. Ed.
Trainer in Comprehensive Sexual Health Education, FLASH and KNOW, PHSKC
Brett Niessen, MPH,
HIV/STD Program, PHSKC
Laurie Dils, MSW,
Interim Program Supervisor, HIV and SExual Health--OSPI
Dr. Bob Wood,
UW CFAR SPRC Faculty, as the Moderator  
The UW/FHCRC CFAR SPRC and PHSKC will host a panel discussion on HIV/AIDS education in public schools in Washington state. The panel will investigate current activities to update the HIV/AIDS curricula, including Jodie Howerton's "Redefine Positive HIV Video Project", as well as the efforts of PHSKC. Please join us for this exciting discussion!
Date:  Tuesday, November 26th, 2013
Time: 12:00 PM – 1:30 PM
Place: Chinook Building, 401 5th Ave, Room 123
Mark your calendars.  We'll provide snacks!
If you have any questions, please contact Joanna Bove (bovej@uw.edu).