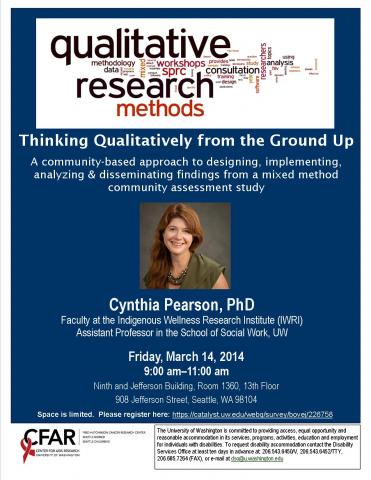 The UW/FHCRC CFAR Sociobehavioral & Prevention Research Core (SPRC) and International Core's Qualitative Methodology Workshop Series:
Thinking Qualitatively from the Ground Up:
A community-based approach to designing, implementing, analyzing & disseminating findings from a mixed method community assessment study
Cynthia Pearson, PhD
Faculty at the Indigenous Wellness Research Institute (IWRI) Assistant Professor in the School of Social Work, UW  
In this presentation, Dr. Pearson highlights a case study that demonstrates a community approach in the use of qualitative and quantitative methods.  Examples and challenges are presented for each phase of the research process from designing the research question, developing the interview guides, community members conducting focus groups and in-depth interviews, as well as assisting in the coding and analysis. Time is allotted for a group discussion in conducting a community-led mix-method study. So please bring challenges you may or are encountering and enjoy a stimulating conversation.
Date: Friday, March 14, 2014
Time: 9:00-11:00am
Place: Ninth & Jefferson Building, 13th Floor, Room 1360
Harborview Medical Center (on the corner of 9th Ave & Jefferson St.)
*Link to attend the live webinar:  http://uwmedical.adobeconnect.com/sprc_webinars/ 
Space is limited. Please register at https://catalyst.uw.edu/webq/survey/bovej/226758
For more information, contact Joanna Bove (bovej@uw.edu