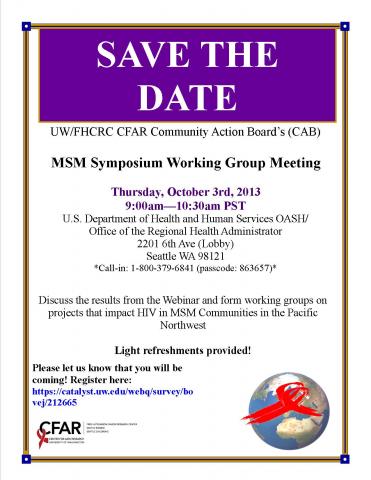 The UW/FHCRC Center for AIDS Research Community Action Board (CAB) will be holding its next MSM Symposium Working group meeting on Thursday, Oct. 3rd and you are invited!
MSM Symposium Working Group Meeting
Thursday, October 3rd, 2013
9:00am—10:30am PST
NEW LOCATION!
Norm Maleng Building, Rm 118
410 Ninth Avenue Seattle, WA 98104   *Call-in: 1-800-379-6841 (passcode: 863657)*  
We will discuss the results from the recent webinar on themes from the May 10th MSM Symposium, and form working groups on projects that impact HIV in MSM Communities in the Pacific Northwest.
Light refreshments provided!
Please let us know if you will be coming! Register here: https://catalyst.uw.edu/webq/survey/bovej/212665