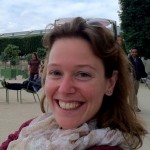 Assistant Professor Brandi Cossairt has been awarded a 2015 Sloan Research Fellowship, awarded by the Alfred P. Sloan Foundation. The fellowships are "given to early-career scientists and scholars whose achievements and potential identify them as rising stars, the next generation of scientific leaders."
Cossairt's research is in the area of synthetic inorganic chemistry, with a focus on building up molecules and materials for targeted applications in light harvesting and catalysis.
The fellowships include a grant of $50,000 over a two-year period. Once chosen, Sloan Research Fellows are free to pursue whatever lines of inquiry are of most interest to them, and they are permitted to employ Fellowship funds in a wide variety of ways to further their research aims.
"We are very proud of these young scientists who have received these very meaningful and prestigious early career fellowships," said UW Provost and Executive Vice President Ana Mari Cauce. "The awards will enhance the innovative work they are doing in their respective disciplines. The number of recipients this year is also a tribute to the talent our departments have brought to the UW in recent years — these young faculty members are at the top of their fields at this point in their careers and as such the future of the University looks very bright."
This year's 126 fellows come from 57 colleges and universities in the U.S. and Canada and cover many different fields in the sciences, including oceanography, computer science, astronomy, neuroscience, economics and chemistry. Since the program began in 1955, 43 fellows have received a Nobel Prize in their respective fields, along with many other prestigious awards.
Candidates are nominated by their fellow scientists, and winning fellows are selected by an independent panel of senior scholars on the basis of a candidate's independent research accomplishments, creativity and potential to become a leader in his or her field.
Please visit the Alfred P. Sloan Foundation website for more information about the Sloan Research Fellowship and a full list of recipients.
For more information about Professor Cossairt and her research, please visit her faculty page and research group website.