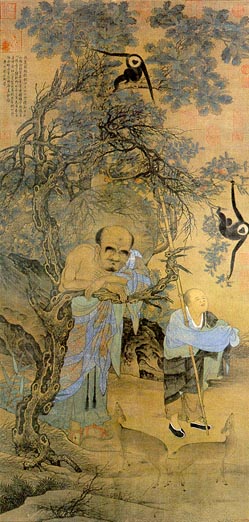 Daoist immortals were believed to inhabit remote mountain peaks and practice secret methods of elixir-making there. Portraits of other religious figures, like the Buddhist lohan at the left, were often situated in a landscape with magical qualities. The deer in this painting is a symbol of the Buddha because it is believed a deer was one of his early incarnations.
Certain plants and animals were favored for gardens because of their associations with overcoming the limits of ordinary life. Some trees or plants, for example, grew against harsh odds, such as difficult terrain, and certain animals, such as cranes, seemed to possess an ability to survive in ways beyond human capability.
What objects can you identify in this painting that might have carried such symbolic associations?