The late Zhou saw important changes in the function and style of bronzes. During the Shang and the Western Zhou bronze vessels had been used primarily for sacrifices to the ancestors, both in life and after death. During the Warring States period, however, bronze vessels began to be seen as luxury items in their own right and were increasingly disassociated from the realm of religious ritual. Sacrificial vessels were still necessary, but those tended to be plainer in appearance than the vessels for display and feasting. Bronzes became larger in size and more ornate in appearance, as shown in the extensive use of gold and silver inlay. In keeping with their new role as commodities, most bronze vessels of the Warring States period lack significant inscriptions. The inscriptions on Marquis Yi's bronzes refer to the owner, but not to ancestors.
How might changes in the function and appearance of bronzes be related to the political circumstances during the Warring States period?
SOME THOUGHTS: During the Warring States period there was constant conflict and competition between the various states. Lavish and public displays of wealth was one way for a ruler to assert his prestige before his allies and rivals. The wealth of the state of Zeng can only be imagined, but the tonnage of the bronzes in Marquis Yi's tomb far exceeds that of any ancient tomb anywhere in the world -- the total weight is estimated at over ten metric tons.
As you look at the bronzes below, think about how they compare to those from the Shang and Zhou tombs of Fu Hao and the Count of Yu.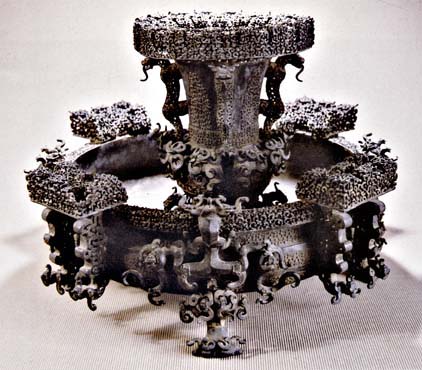 To the left is a wine vessel in a matching tray. This elaborate set was made by a complex process of multiple casting. The vessels themselves were cast by the traditional piece-mold technique, but the intricate decoration was done by a new casting process and then soldered to the vessels.
Can you imagine how the decoration was cast?
Bronze zun (wine vessel) and bronze pan (plate)
SOURCE: Zhongguo meishu quanji, Diaosu bian, 1 (Beijing: Renmin meishu chubanshe, 1988), p. 164.