Rocks were to the Chinese garden what sculpture was to its European counterpart. A deep appreciation for rocks stemmed from ancient religious attitudes toward nature, which included the veneration of mountains. Rocks were believed to have a concentrated amount of natural energy and symbolized the dwelling places of the Daoist immortals. A region with rugged, lofty and remote terrain was believed to produce especially potent minerals and plants that, when consumed in just the right combination, would guarantee longevity if not immortality itself. Rocks were introduced into the garden as individual specimens and as components of complex rockeries.
As an element, rock is classified by the Chinese as "yang" because it is strong, durable, hard and "male"), but the best garden stones also exhibited spareness and delicacy. Top-heavy, rugged stones that seemed to defy gravity and to hang in the air like clouds were the most highly prized.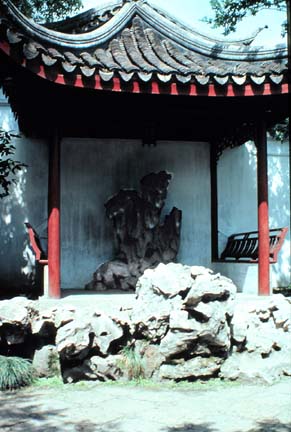 If a rock appeared porous with many holes penetrating all the way through and had a strangely contorted overall form, it was considered a highly valuable asset to the garden. Lake Tai near Suzhou produced the most prized rocks; the chemical composition of the Great Lake caused the limestone on its bed to erode in an irregular fashion.
Why might a garden designer isolate an individual rock like the one at left in its own pavilion?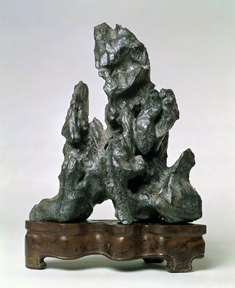 Rocks were placed not only in gardens, but also were treated as art objects, to be put on display inside, perhaps on a scholar's desk. Certain types of rocks, such as the Lingbi rock, shown to the right, were highly appreciated for their luster, unusual shapes, interesting veining, or the cavities that formed within them. Often these rocks were highly polished and placed on custom-made stands.
Why would holes have given stones greater value?