Awards Dinner, Program Ranking, Industry Activities
AWARDS & GRADUATION CELEBRATION: Campus students from the autumn 2018 cohort were recognized at a dinner on Tuesday, December 3, 2019. Celebrating their accomplishments and forthcoming graduation were program staff, faculty, and first year students.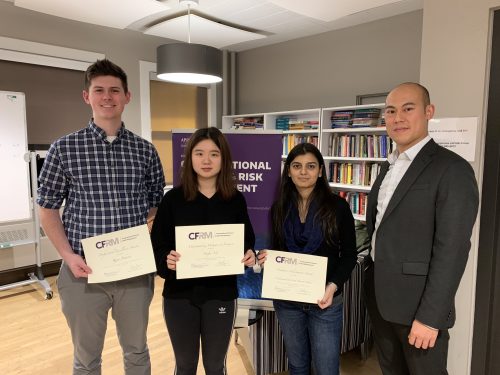 The third annual event, hosted by Director Tim Leung, paid tribute to campus students who have excelled in many areas during their time in the graduate degree program. Students were presented with a certificate and received a monetary award.
Award Categories & Recipients, 2019
Professional Excellence Award: The award is presented to a CFRM student who has shown exceptional potential and commitment to being a capable and ethical finance professional.
Recipient: Ryan Johnson
Outstanding Woman in Finance: The award is presented to a female​ CFRM student who has shown outstanding academic performance and great professional promise.
Recipient: Yunfei Nie
Academic Achievement: The award is presented to a CFRM student who has shown excellent academic performance, and ​consistent participation in CFRM academic and extracurricular activities.
Recipient: Muhammadaha Areeb Shaukat Khichi
Peer Leadership: The award is presented to a CFRM student who has shown themselves to be a leader in the 2018-19 cohort, who is dependable, helpful, and the ideal CFRM student.
Recipient: Ziheng Xiao
Dan Hanson's "Guts" Award: Professor Hanson awarded a student who overcame challenges or obstacles, to excel in his courses.
Recipient: Muhammadaha Areeb Shaukat Khichi
Congratulations to the award winners, and to the students of the 2018 cohort as they graduate!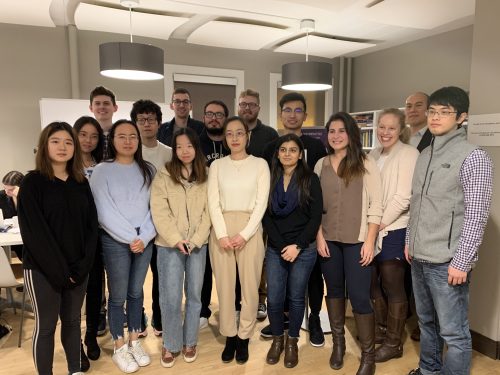 2020 QUANTNET RANKING: On December 16, 2019, the 2020 QuantNet rankings of MFE programs was released. The Computational Finance and Risk Management program improved over 2019, moving up one spot to #15 out of 33 programs.
The ranking is based on competitive results in a number of attributes, ranging from peer assessment and student selectivity to job placement rate and starting salary.
The CFRM MS degree is offered by the Department of Applied Mathematics (AMATH) within the College of Arts and Sciences of the University of Washington. It can be completed either through the standard 42 credit general program or an extended course of study.
CFRM + INDUSTRY: Campus MS students were invited to an open house hosted by The Energy Authority on November 8, attended an information session hosted by Milliman Life and Annuity Predictive Analytics practice on November 12, toured Parametric Portfolio Associates offices on November 15, and attended an information session hosted by Zillow Group, Applied Science for Financial Risk Management, on November 19…Career Services Manager Karen Beaudry gave a presentation to the Rotary Club of Lake Stevens on November 15…A group of campus MS students and program staff attended the Seattle Alternative Investment Association (SAIA) 8th Annual Alternative Investment Summit on November 21.