UW Medicine Compliance
April 14, 2015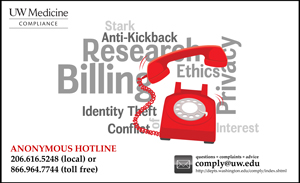 The UW Medicine Compliance Hotline is provided to assist UW Medicine individuals complying with federal and state laws, regulations, and institutional policies that impact our work. If you seek compliance related information or have questions, do not hesitate to contact us.
1.206.616.5248 (local)
1.866.964.7744 (toll free)
For more information, click here.