Home > Directory > Home
| | |
Adeline (Lynn) Hajjar, D.V.M., Ph.D.
Research Associate Professor
Department of Comparative Medicine

School of Medicine

University of Washington

Seattle, WA

Office: 685-3733

Lab: 616-2386 / 543-8036

F: 685-3006

hajjar@uw.edu
Lynn Hajjar obtained her DVM in 1988 from the University of Illinois. She then completed a residency in Laboratory Animal Medicine in 1992 and obtained a PhD in 1995 from the University of Washington. She completed her graduate research in the laboratory of Maxine Linial at the Fred Hutchinson Cancer Research Center. She then had one year of postdoctoral training in the laboratory of Julie Overbaugh before joining Chris Wilson's laboratory in the Department of Immunology where she began her studies on innate immunity. She remained in his laboratory for 13 years before joining the Department of Comparative Medicine in December 2009. She is now Director of the Gnotobiotic Animal Core (GNAC).
Research Interests:
Toll-like receptors are pattern-recognition receptors that recognize molecular patterns expressed by microbial organisms.  This family of receptors mediates early innate responses.  We are interested in understanding how specificity is achieved in this "non-antigen-specific" response.  Toll-like receptor 4 (TLR4) and its co-receptor MD-2 recognize the lipid A component of lipopolysaccharide (LPS) which comprises the outer leaflet of the outer membrane of Gram negative bacteria.  It is now clear that the structure of lipid A varies not only between bacterial genotypes but also within a species grown under different conditions.  We, and others, have shown that mouse and human TLR4/MD-2 differentially recognize lipid A structures, with the human receptor being hyporesponsive to penta- and tetra-acylated lipid A.  Current studies in the lab are focused on Bordetella pertussis, the causative agent of whooping cough that expresses a hypoacylated lipid A that is differentially recognized by TLR4/MD-2.
Recently, we began studies to examine the role of the microbiota in cystic fibrosis (CF). We generated germfree (GF) CF mice and we are dissecting the relative contribution of CFTR (the gene mutated in CF) to microbiota in disease progression.

The Hajjar Lab:
Left to Right: Ruiqi, Lynn, Molly, Stacie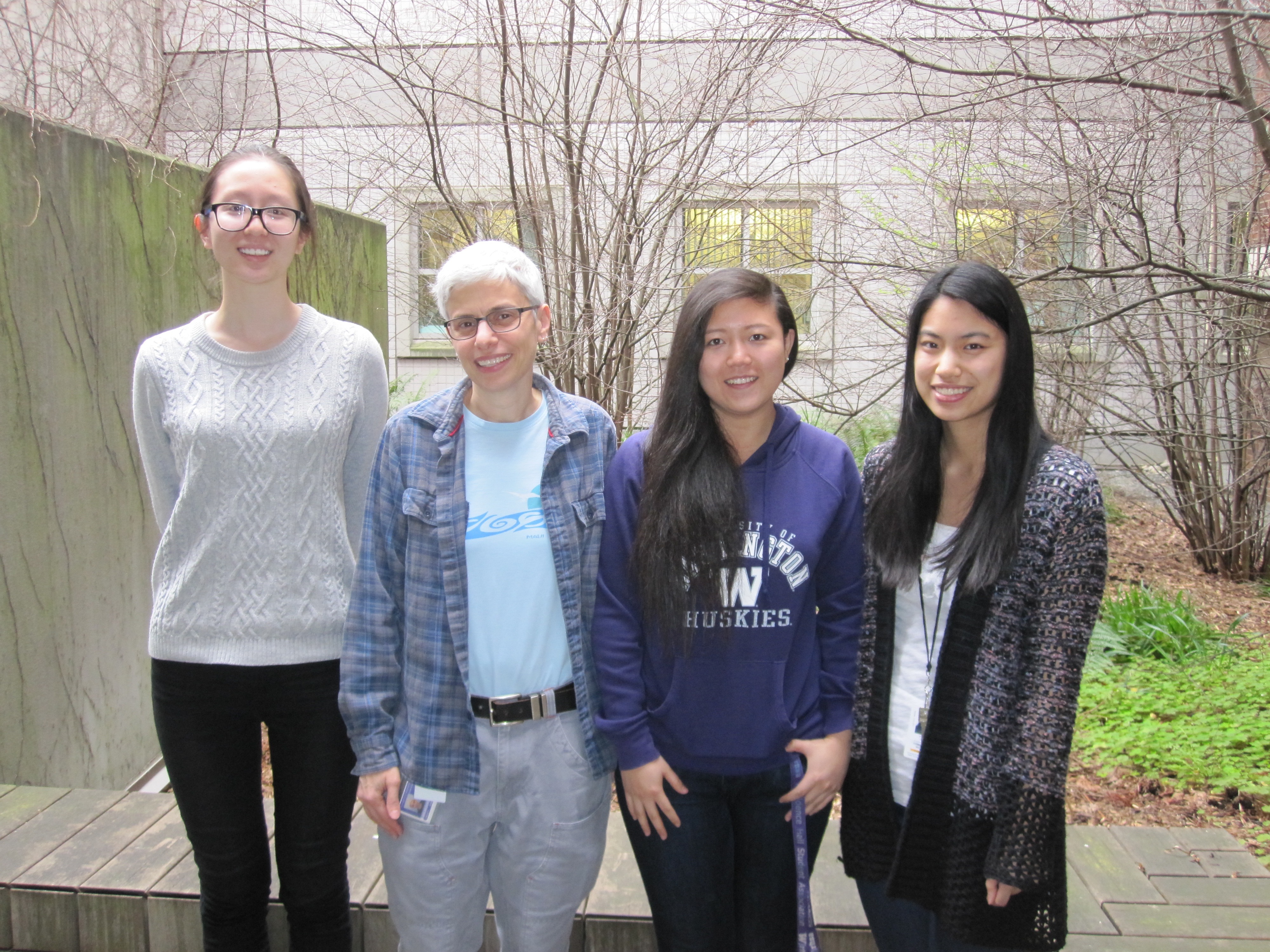 Selected Publications and Presentations
Representative Publications:

Marr N, Hajjar AM, Shah NR, Novikov A, Yam CS, Caroff M, Fernandez RC. Substitution of the Bordetella pertussis lipid A phosphate groups with glucosamine is required for robust NF-{kappa}B activation and release of pro-inflammatory cytokines in cells expressing human but not murine Toll-like receptor 4-MD-2-CD14. Infect Immun 78:2060-9, 2010. PMC2863497

Hajjar AM, Ernst RK, Fortuno III ES, Brasfield AS, Yam CS, Newlon LA, Kollmann TR, Miller SI, Wilson CB.  Humanized TLR4/MD-2 mice reveal LPS recognition differentially impacts susceptibility to Yersinia pestis and Salmonella enterica.  PLoS Pathog, 8(10):e1002963, 2012. PMC3469661

Snyder JM, Treuting PM, Nagy L, Yam C, Yi J, Brasfield A, Nguyen LPA, Hajjar AM. Humanized TLR7/8 expression drives proliferative multisystemic histiocytosis in C57BL/6 mice. PLoS One 9(9):e107257, 2014. PMC4168129

Loomis WP, Johnson ML, Brasfield A, Blanc MP, Yi J, Miller SI, Cookson BT, Hajjar AM. Temporal and anatomical host resistance to chronic Salmonella infection is quantitatively dictated by Nramp1 and influenced by host genetic background. PLoS One 9(10):e111763, 2014. PMC4211889

Maeshima N, Evans-Atkinson T, Hajjar AM, Fernandez RC. Bordetella pertussis lipid A recognition by Toll-like receptor 4 and MD-2 is dependent on distinct charged and uncharged interfaces. J Biol Chem 290:13440-13453, 2015.

PMC4505591