Home > Directory > Home
| | |
Adeline (Lynn) Hajjar, D.V.M., Ph.D.
Research Associate Professor
Department of Comparative Medicine

School of Medicine

University of Washington

Seattle, WA

Office: 685-3733

Lab: 616-2386 / 543-8036

F: 685-3006

hajjar@uw.edu
Lynn Hajjar obtained her DVM in 1988 from the University of Illinois. She then continued her graduate studies in the laboratory of Maxine Linial at the Fred Hutchinson Cancer Research Center in Seattle and obtained a PhD in 1995 from the University of Washington. She also completed a residency in Laboratory Animal Medicine in 1992 at the University of Washington. She had one year of postdoctoral training in the laboratory of Julie Overbaugh then joined Chris Wilson's laboratory in the Department of Immunology where she began her studies on innate immunity. She remained in his laboratory for 13 years before joining the Department of Comparative Medicine in December 2009.
Toll-like receptors are pattern-recognition receptors that recognize molecular patterns expressed by microbial organisms. This family of receptors mediates early innate responses. We are interested in understanding how specificity is achieved in this "non-antigen-specific" response. Toll-like receptor 4 (TLR4) and its coreceptor MD-2 recognize the lipid A component of lipopolysaccharide (LPS) which comprises the outer leaflet of the outer membrane of Gram negative bacteria. It is now clear that the structure of lipid A varies not only between bacterial genotypes but also within a species grown under different conditions. We and others have shown that mouse and human TLR4/MD-2 differentially recognize lipid A structures, with the human receptor being hyporesponsive to penta- and tetra-acylated lipid A. For example, Yersinia pestis produces a hexa-acylated structure at room temp (flea temperature) and switches to a tetra-acylated structure at 37°C (mammalian temperature). This tetra-acylated structure resembles Lipid IVa, an agonist to mouse TLR4/MD-2 but an antagonist to the human receptor. We hypothesized that this switching to a tetra-acylated LPS structure by Y. pestis at 37°C is an immune evasion strategy that makes humans more susceptible to infection than mice. Our studies in mice that express the human receptors instead of the mouse receptors demonstrate that these humanized TLR4/MD-2 mice are indeed more susceptible to Y. pestis infection than wild-type mice.
In addition to differences in ligand recognition by TLRs, mice and humans also differ in cell-type expression. For example, mouse TLR9 is expressed in myeloid cells in addition to B-cells and pDC, the antigen-presenting cells where human TLR9 is expressed. We are studying humanized TLR9 mice to determine the consequences of this differential expression pattern.
The Hajjar Lab:
Top Left to Right: Alicia, Jae, Lynn, Lisa
Bottom Center: Cathy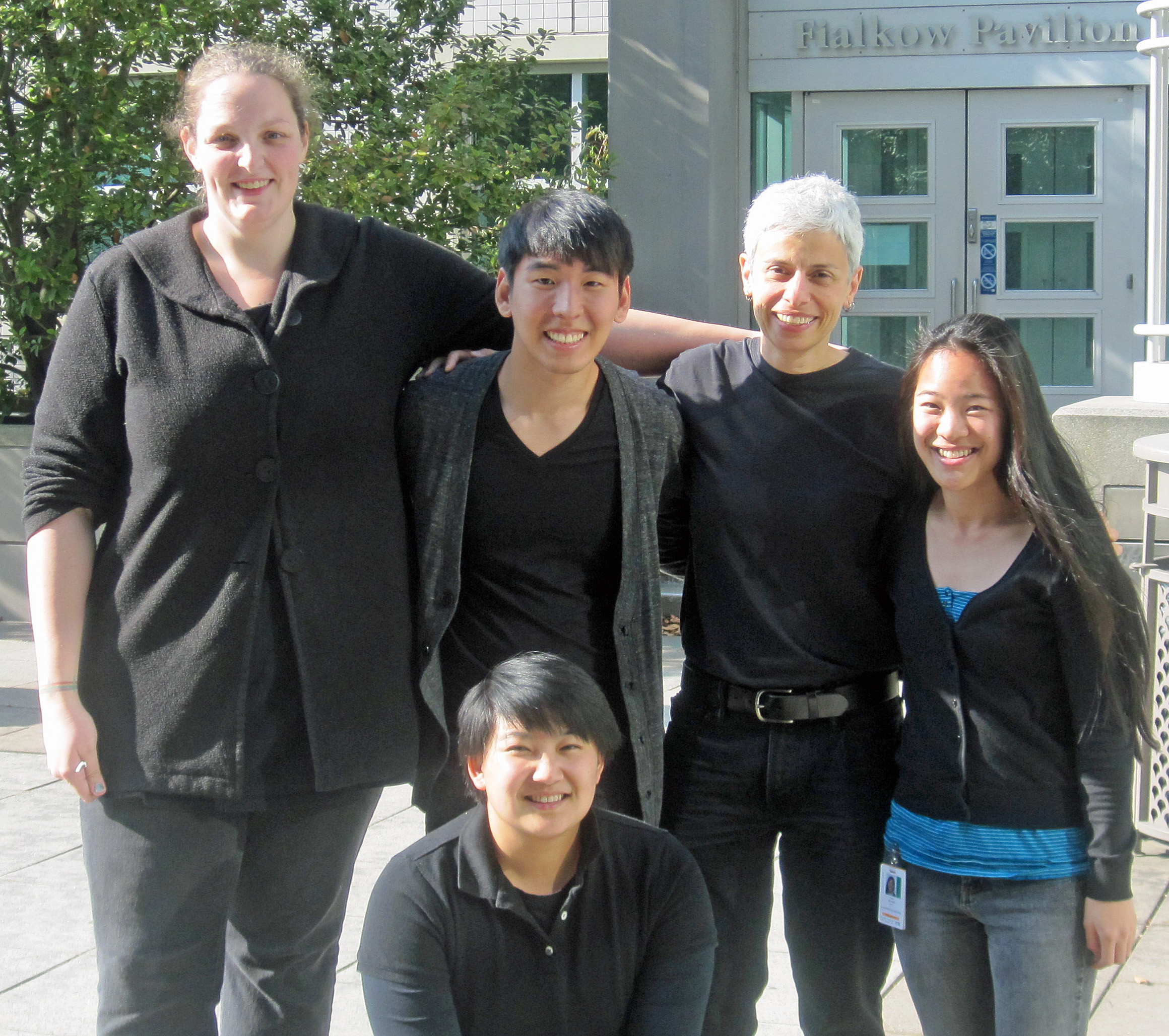 Selected Publications and Presentations
Hajjar AM, Harowicz H, Liggitt HD, Fink PJ, Wilson CB, Skerrett SJ. An essential role for non-bone marrow-derived cells in control of Pseudomonas aeruginosa pneumonia. Am J Respir Cell Mol Biol 33:470-5, 2005. PMC2715354

Krishnegowda G*, Hajjar AM* **, Zhu J, Douglass EJ, Uematsu S, Akira S, Woods AS, Gowda DC**. Induction of proinflammatory responses in macrophages by the glycosylphosphatidylinositols of Plasmodium falciparum: cell signaling receptors, glycosylphosphatidylinositol (GPI) structural requirement, and regulation of GPI activity. J Biol Chem 280:8606-16, 2005.

Hajjar AM, Harvey MD, Shaffer SA, Goodlett DR, Sjostedt A, Edebro H, Forsman M, Bystrom M, Pelletier M, Wilson CB, Miller SI, Skerrett SJ, Ernst RK. Lack of in vitro and in vivo recognition of Francisella subspecies LPS by Toll-like receptors. Infect Immun 74:6730-8, 2006. PMC1698081

Kanistanon D, Hajjar AM, Pelletier MR, Gallagher LA, Kalhorn T, Shaffer SA, Goodlett DR, Rohmer L, Brittnacher MJ, Skerrett SJ, Ernst RK. A Francisella mutant in Lipid A carbohydrate modification elicits protective immunity. PLoS Pathog 4:e24, 2008. PMC2233673

Awoniyi M, Miller SI, Wilson CB, Hajjar AM ** , Smith KD ** . Homeostatic regulation of Salmonella-induced mucosal inflammation and injury by IL-23. PLoS One 7(5):e37311, 2012. PMC3356277

Hajjar AM ** , Ernst RK * , Fortuno III ES * , Brasfield AS, Yam CS, Newlon LA, Kollmann TR, Miller SI, Wilson CB. Humanized TLR4/MD-2 mice reveal LPS recognition differentially impacts susceptibility to Yersinia pestis and Salmonella enterica. PLoS Pathog, 8(10):e1002963 , 2012. PMC3469661

*contributed equally **share senior authorship