Home > Academic Programs > Home
Postdoctoral Residency in Laboratory Animal Medicine
Clinical Training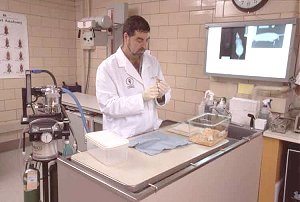 The treatment room in Veterinary Services is a hub for the resident during their training.
Clinical training is provided by the DCM and is centered upon specialty training in laboratory animal medicine. Rotations include clinical medicine, pathology, rodent health monitoring and IACUC. Residents also attend two weekly one-hour seminars that cover a variety of laboratory animal medicine, pathology and experimental research topics. Additional areas of interest, such as facility design and management of animal facilities, are covered and can be explored further, depending upon the interest of the resident.
There will be at least one senior clinical veterinarian and one pathologist responsible for training no more than 2 residents at any given time. Species that residents typically treat include fish, mice, rats, chickens, frogs, cats, non-human primates, rabbits, birds, pigs, hamsters, bats, dogs, ferrets, geckos, guinea pigs and salamanders.
Course Work
In accordance with the guidelines of ACLAM training purposes, we require over 200 hours of instruction in the required matriculated courses (see courses and requirements). Additional University of Washington classes based on the resident's research interest may be taken.