Home > Academic Programs > Home
Postdoctoral Residency in Laboratory Animal Medicine
Research Training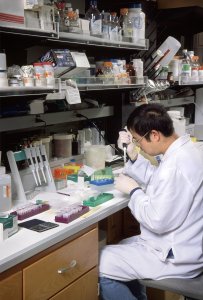 DCM has 4,300 sq. feet of research space.
Goals and Objectives
The overall goal of the research component of the training program is to complete a biomedical research project resulting in a publication. This is accomplished through the mentor relationship with an established scientist and full participation in a research project. Specific objectives include the instruction of trainees in the principles of experimental design, statistics, data collection, grant writing, the preparation of manuscripts, and the ethical principles of research, including animal experimentation and the humane care and use of laboratory animals.
Advanced Degrees
The trainee may elect to pursue either the M.S. or Ph.D. degree. The M.S. of Comparative Medicine degree is attainable in a three-year period, but a Ph.D. program commonly takes a total of five to seven years and additional financial support would be needed to complete a Ph.D. The length of the UW laboratory animal training program is three years. The research mentor will have the primary responsibility for identifying funding for trainees continuing their research or pursuing a Ph.D. degree beyond the third year of training.
Research Areas
Active research programs within the DCM investigate numerous areas of biomedical research. Our faculty have research programs investigating the mechanisms of aging, mechanisms of cancer development, the relationship between Helicobacter infection and the development of cancer, the influence of infections on the development of autoimmune diseases, the innate immune response to respiratory infections, mechanisms of prion disease susceptibility, and embryonic stem cell development. Smaller projects within the Department aimed at specific areas of concern for laboratory animals include the influence of murine norovirus on mouse models of inflammatory bowel disease and cancer.