Home > Academic Programs > Home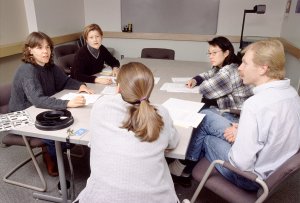 Residents attending weekly classes and seminars in the DCM conference room.
Training Overview
The Department of Comparative Medicine at the University of Washington in Seattle offers training for the next generation of veterinary scientists in biomedical research, who are envisioned as becoming leaders in comparative medicine while engaged in service, research and teaching in an academic environment. Comparative medicine has grown out of the fields of pathology and laboratory animal medicine and science. It encompasses the various disciplines that are involved in the development, maintenance, and use of animal models of human and animal physiology and disease conditions.

With the advent of transgenic technologies, gene therapy, and the resurgence of integrative biology, the role for veterinarians within academic and research entities is evolving. The clinical laboratory animal medicine residency program takes advantage of opportunities that exist in this university, which ranks first among public medical schools in NIH extramural awards among American universities, has 38 NIH-sponsored training programs, and has an energetic faculty in Comparative Medicine that is committed to training.