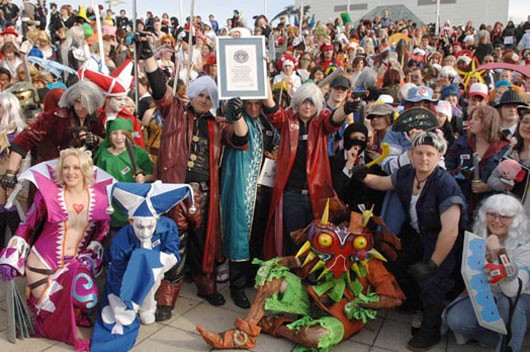 The Keywords for Video Game Studies graduate interest group's (GIG) first session of the Winter Quarter is on Thursday, January 26, 3:30-5:30 PM *NEW DATE*, in Communication 226.  This is our third public reading group/workshop of the year and will focus on the gaming terms "Altplay/Fandom."
The Keywords for Video Game Studies working group, in collaboration with the Critical Gaming Project at the University of Washington and the Humanities, Arts, Science, and Technology Advanced Collaboratory (HASTAC), is supported by the Simpson Center for the Humanities.
What to Expect
The format for the reading group/workshop is simple: read, play, gather, discuss.  (And share in some refreshments.)  Though our immediate audience is graduate students, our goal is to bring together people from a variety of fields and from all different points in their academic careers who have an interest in video game studies.  The reading group/workshop format allows us to frame the discussion with a handful of short essays, a few key games, and the rest is up to participants to tease out the issues and angles related to the day's key word.
What to Read, What to Play

We hope everyone can read and come prepared to discuss the following essays and texts:
Gifford Cheung & Jeff Huang, "Starcraft from the Stands: Understanding the Game Spectator"
Mia Consalvo, "There is No Magic Circle"
Celia Pearce and Artemesia, Communities of Play, Ch. 10 "Productive Play"
Celia Pearce and Artemesia, Communities of Play, Ch. 11 "Porous Magic Circles and the Ludisphere"
Please watch "Episode 1: Why Are We Here?" of Red vs. Blue: http://www.youtube.com/watch?v=9BAM9fgV-ts
Mapstalgia: Video Game Maps Drawn from Memory: http://mapstalgia.tumblr.com/
If you have a UWNetID, you can find copies of each essay on e-reserve.  If you do not have access to UW e-reserves, please contact us and we'll work something out.
Moreover, for this discussion, all you need to have played is a game that you are a big fan of, a game that provided a memorable experience — Skyrim, PONG, Star Wars: The Old Republic, ChronoTrigger, World of Warcraft, Castlevania, Plants vs. Zombies, Farmville, Angry Birds, and so on.
What to Discuss
We're all a fan of something — in different ways. We engage in nuanced arguments and speculation, quote our favorite lines, make inspired art, build databases, attend conventions, run online forums, and varied other activities. With games, these activities might be called 'alternative play' because players are playing with games' worlds, characters, conventions, etc. in addition to or instead of playing the game directly. It's important to note that these activities require a great deal of labor, planning, coordination, etc. In this way, fan communities can determine the success of a game, provide inspiration for designers, and can extend the life of a game beyond its original support (e.g., Pearce's Communities of Play). However, the relationship between fandom and intellectual property owners is tense, and increasingly litigious.
Consider the following provocations and questions:
Do these altplay/fandom activities extend the 'magic circle' or are they outside it?  What would Huizinga say?
How has the spread of broadband internet access at home influenced fan communities?
How do altplay/fandom activities subvert or complement game designers' intents? How do these activities affect or influence the relationships between designers and players?
Does altplay represent an unintended 'use'? How can designers leverage altplay activities to improve the User Experience of a game?
What kinds of information management techniques or strategies might fans utilize to participate in altplay/fandom activities?
What kinds of barriers exist to participation in altplay/fandom activities? Is participation 'equal'? Is participation equally distributed throughout a fan community?
Are 'fair-weather fans' really fans?
Feel free to comment on these here or add your own questions.  Either way, come be a part of our discussion Thursday, January 26, 3:30-5:30 in CMU 226 *NEW DATE*.