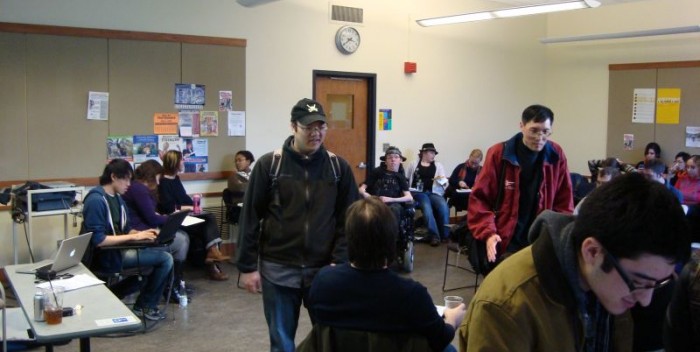 Thanks to everyone who attended the last Keywords for Video Game Studies graduate interest group session on "Altplay/Fandom."  Even with having to reschedule because of the week of snow, the room was full and the conversation was varied and interesting.
We opened the session with a brief presentation from Gifford Cheung, a PhD Candidate in UW's Information School, who gave synopsis of his article "Starcraft from the Stands: Understanding the Game Spectator" (co-authored with Jeff Huang).  Cheung's presentation addressed the idea that playing video games is not simply about the player and the game but must also include para-gamic considerations like spectators, social context, and competition.  Focusing particularly on Starcraft, a real-time strategy game played in massive competitions like the World Cyber Games, Cheung articulated "i) who are the spectators and why do they spectate, ii) how different stakeholders affect the spectator's experience, and iii) what a spectator finds entertaining."  Cheung's arguments opened the conversation up to a broader discussion about what it means to play a game, what constitutes "playing," and how might the idea of the 'magic circle' of playing needs to be widened to include non-players invested in the game.
Next, the discussion turned to further definitions of what alternative play means, including addressing "negative" play like cheating, exploiting, and griefing.  Mia Consalvo's article "There is No Magic Circle" attempts to think through the "altplay" of cheating, arguing, "players never play a new game or fail to bring outside knowledge about games and gameplay into their gaming situations. The event is 'tainted' perhaps by prior knowledge. There is no innocent gaming" (415).  Depending on the players, the game, and the context, some forms of "cheating" are simply acceptable ways of playing and some are seen as disruptive, unfair, and wrong.  We discussed the use cheat codes (often provided by the game itself) or using walkthroughs or having someone else solve a puzzle or play a difficult section of a game.  Are all of these cheating?  Are they just play?  The discussion returned to the problem of the magic circle, echoing Consalvo's desire to think of play differently.  She says, "Rather than restrict games to a bounded circle, another way of understanding the processes of gameplay could be through application of another framework—the frames and keys of Erving Goffman, modified in Gary Alan Fine's work with roleplaying gamers in the 1980s…Players exist or understand 'reality' through recourse to various frames (their daily life, the game world, their characters' alleged knowledge and past) and move between those frames with fluidity and grace.  So, rather than seeing a boundary break or simply being 'inside' or 'outside' a magic circle, by conceptualizing gamer activity as movements between frames, we can better capture and study the complexities of [gameplay]" (413-15).
Finally, we talked about fandom (as distinct from altplay), what constitutes being a fan of a game (can you be a fan in isolation?), the work of fandom (e.g. game inspired art, cosplay, fan fiction, game mods, reviews and critiques), and the importance of games as being socially and culturally situated.  We thought about the productions of fandom as paratexts (to borrow Gerard Genette's idea) to the game.  We discussed how fandom (like spectators) can affect the playing of a game, how a game is understood by players or groups, and how fandom is an end to itself.  Might fandom be an extension of playing the game?  Or is it something different altogether?  Where do they intersect or overlap?
All in all, the session was illuminating and fun, full of ideas and interventions not usually considered in much detail when talking about video game studies.  Thanks in particular to Keyworder Natascha Karlova for organizing the session.  Thanks to Gifford Cheung for attending and showing us your work.  Hope to see everyone at the next Keywords session on "Gold Farming" on February 16, 3:30 PM, in Communication 202.