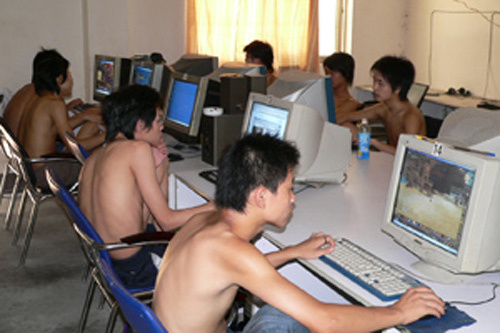 The Keywords for Video Game Studies graduate interest group's (GIG) first session of the Winter Quarter is on Thursday, February 16, 3:30-5:30 PM, in Communication 202.  This is our third public reading group/workshop of the year and will focus on the gaming term "Gold Farming."
The Keywords for Video Game Studies working group, in collaboration with the Critical Gaming Project at the University of Washington and the Humanities, Arts, Science, and Technology Advanced Collaboratory (HASTAC), is supported by the Simpson Center for the Humanities.
What to Expect
The format for the reading group/workshop is simple: read, play, gather, discuss.  (And share in some refreshments.)  Though our immediate audience is graduate students, our goal is to bring together people from a variety of fields and from all different points in their academic careers who have an interest in video game studies.  The reading group/workshop format allows us to frame the discussion with a handful of short essays, a few key games, and the rest is up to participants to tease out the issues and angles related to the day's key word.
What to Read

We hope everyone can read and come prepared to discuss the following essays and texts:
If you have a UWNetID, you can find copies of each essay on e-reserve.  If you do not have access to UW e-reserves, please contact us and we'll work something out.
What to Play
Though we will undoubtedly talk about many different games, we have selected the following games to serve as common points of reference for our discussion:
World of Warcraft or Diablo 3 (or any MMORPG really)
Watch this video (Mad Cow Studio's "Ni Hao"):
What to Discuss
Edward Castronova argues in Exodus to the Virtual World, "The mere fact that the gold pieces in a game are virtual means nothing as far as economic value goes.  U.S. dollars are virtual, too…there's no difference, either culturally or economically, between production in Second Life and production in the real world, meaning that we should pay attention to synthetic world economies as if they were real-world economies" (12).  The next Keywords working group session will take up this incredible provocation to engage questions about in-game and real world money, resources, labor, commodification, race, and exploitation through the term "gold farming."  Simply put, gold farming is the accrual of in-game wealth, items, even prestige to be sold or traded for real-world resources.  From selling and buying gold pieces to epic swords to twinked out characters, gold farming reveals the intermingling, interconnection, and interruption of game world and real world, what Constance Steinkuehler calls "the mangle of play."
Consider the following provocations and questions:
What is gold farming, really?  Is it within the rules of play?  Is it playing against the "intent" of the game?  Is it cheating?
What are in-game economies?  What happens when in-game economies affect out-of-game economics (and vice versa)?
How might gold farming allow us to think about work and play?  Labor?
How do we address the curious intersection, conflating of gold farming and race or nation?  In other words, how do we address what Constance Steinkuehler describes as "a whole new form of virtual racism has emerged, with an in-game character class unreflectively substituted for unacknowledged (and largely unexamined) real-world differences between China and America, such as economic disparity, cultural difference, language barriers, and discrepant play styles" (208).
This session is held in conjunction with the opening of the "Asian American Arcade" exhibit at the Wing Luke Museum in Seattle's International District.  Feel free to comment on these here or add your own questions.  Either way, come be a part of our discussion Thursday, February 16, 3:30-5:30 in CMU 202.