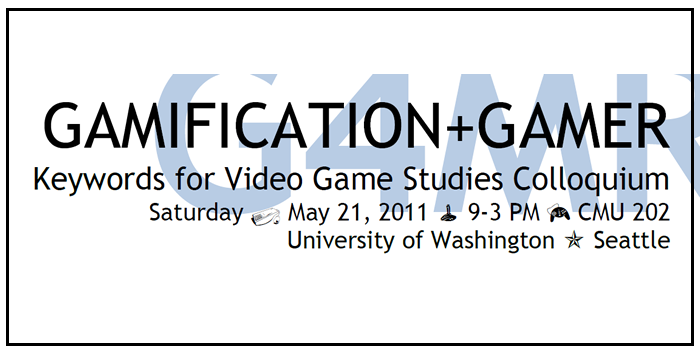 GAMIFICATION+GAMER
Keywords for Video Game Studies Colloquium
May 21, 2011
9-3 PM
Communication 202
University of Washington, Seattle
The Keywords for Video Game Studies colloquium invites game scholars, artists, designers, developers, and enthusiasts to participate in roundtable discussions, presentations of individual and collaborative work, scholarship, and play.  The colloquium, broadly themed by the keyword "gamer," is the capstone event to a year-long series of workshop sessions on play, immersion/interactivity, avatar, power/control, and pedagogy.  The colloquium hopes to foster the growing engagement with what it means to study or make or play digital games.
The Keywords for Video Game Studies working group, in collaboration with the Critical Gaming Project at the University of Washington and the Humanities, Arts, Science, and Technology Advanced Collaboratory (HASTAC), is supported by the Simpson Center for the Humanities.  For more information about the Keywords group, go to: https://depts.washington.edu/critgame/wordpress/keywords/
The colloquium is free and open to University of Washington students, faculty, staff, and community.
Program
9:00 AM-10:00 AM Registration & Welcome
10:00 AM-12:00 PM Session I: "Gamification"
The morning session will engage the questions, issues, and challenges of game development, game commodification, and games as life.  How might scholars, teachers, writers, and developers think about the trend to gamify everything and the recent multi-billion dollar investment in gamification?  Gamification.org defines gamification as "the concept that you can apply the basic elements that make games fun and engaging to things that typically aren't considered a game.  In theory you can apply Game Design to almost anything including Education, Health, Work and more.  Gamification at its core is about fun, rewards and social connections.  It has the opportunity to connect people in ways never seen before."  What are the theories and possibilities of fun and games?  What are the critiques and problems of fun and games?
Featured Roundtable Presenters:
Mark Chen, "The Mangle of Gaming to Socially Create Meaningful Experiences," Advancing Gaming in Innovative Learning Ecologies (AGILE), Institute for Science and Math Ed, LIFE Center, University of Washington
Joshua Gerrish, Incentive-Centered Design is related to "Gamification" and "Game Mechanics," Founder gaming and gamification startups Empty Box and Reciprocade
Eliot Hemingway, "Games and Classroom Education," Comparative History of Ideas (CHID), UW
Theresa Horstman, "Approaches in Game Design for Learning," Department of Education, UW
Kris Knigge, "Video Game Blogging and Journalism," Associate Editor at Siliconera.com and founding member of Sega-Addicts.com, Department of English, UW
Timothy Welsh, Moderator, Department of English, UW
12:00 PM-1:00 PM Lunch/Break
1:00-3:00 PM Session II: "Gamer"
In "Growing Up Gamer," researcher and designer Jane McGonigal says, "We cherish the time we've spent playing games.  We love what games give us the power to do.  We love who games give us the opportunity to become.  And with every additional generation that grows up playing games, there are more and more of us who see gaming as a way to have the best kinds of experiences, to make the best kinds of friendships and lifelong partnerships, to do the most amazing work, and to become the best possible version of ourselves."  The afternoon session will engage video games and play, art, community, and cultural critique.  How might scholars, artists, developers, and players think about games as cultural artifact and popular culture?
Featured Roundtable Presenters:
Megan Bertelsen, "Environments of Flesh: Body and Flesh in the Fantasy RPG Environment," Department of Comparative Literature, UW
Blaine Doherty, "Close Playing of LIMBO," Comparative History of Ideas (CHID), University of Washington
Taya Huang, "Immersion and Assassin's Creed," Departments of Biochemistry and Scandinavian Studies, UW
Nathan Moller, "Machinima and Game Cinematics," 5th Cell Media
Terry Schenold, "RPG Games & Memory," Department of English, UW
Gary Walsh, Jr., "Taming the Monster: Violence, Spectacle, and the Virtual Animal," Comparative History of Ideas, UW
Edmond Chang, Moderator, Department of English, UW