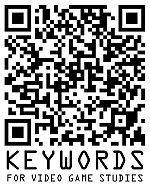 From 2010-2013 members of the CGP facilitated a graduate interest group that brought together interdisciplinary perspectives and scholarship on video games. Created by Ed Chang, Keywords for Video Game Studies was a working group that aimed to bolster critical engagement with video games and game culture to address: (1) the design of games (as computational, protocological, rhetorical, and aesthetic artifacts), (2) the theorizing of games (looking at narrative, interactivity, race/gender/sexuality, gamification), and (3) the pedagogical and political potential of games.
Through close readings of games, close playings of games (i.e., critical gaming), and colloquium discussions, the working group highlighted central questions, keywords, and even dissonances in video game studies and video game theory.  Our framing questions included:
What key terms and core concepts animate and shape the field of video game studies?
What are the central tensions, challenges, and antagonisms in video game studies?
How do we as students, scholars, and game players shape the future of video game studies, video game development, and video game pedagogy?
The Keywords for Video Game Studies group was supported by the Simpson Center for the Humanities.