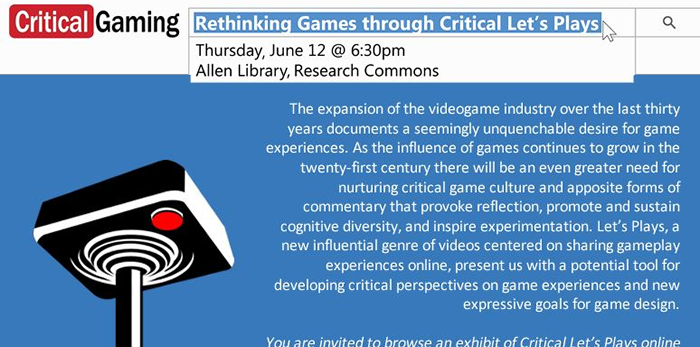 When: Thursday, June 12th @ 6:30pm
Where: Allen Library, Research Commons
The expansion of the videogame industry over the last thirty years documents a seemingly unquenchable desire for game experiences. As the influence of games continues to grow in the twenty-first century there will be an even greater need for nurturing critical game culture and apposite forms of commentary that provoke reflection, promote and sustain cognitive diversity, and inspire experimentation. Let's Plays, a new influential genre of videos centered on sharing gameplay experiences online, present us with a potential tool for developing critical perspectives on game experiences and new expressive goals for game design.
You are invited to browse an exhibit of Critical Let's Plays online and then join us for a short presentation, informal open discussion, and refreshments!
INVITE/FLIER