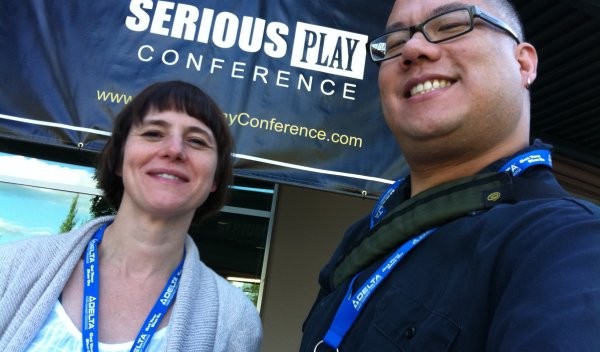 The Simpson Center for the Humanities sponsored two members of the CGP and the Keywords for Video Game Studies graduate working group, Theresa Horstman and Edmond Chang, to attend the Serious Play Conference held at the DigiPen campus in Redmond, WA on August 23-25, 2011.  The conference was a joint venture and partnership of Clark Aldrich, author of five top selling books on serious games; DigiPen Institute of Technology; and Sue Bohle, President of The Bohle Company.  Although not specifically targeted to video game academics, both Horstman and Chang found the conference an important opportunity to interact with developers, designers, educators, marketers, and professionals from across the country representing a wide-range of disciplines, institutions, and corporations.  Here are some of the questions and conversations Horstman (TH) and Chang (EC) brought back from the conference:
1) Why did you attend the Serious Play Conference?
TH: I attended the Serious Play Conference because I was interested in hearing how industry has come to grapple with using games for learning.  In the past few years it has become increasingly more acceptable to use games for learning and its gone beyond just using games for icebreakers or the occasional break in learning.  Instead, it's expanded to include rethinking and re-structuring entire programs and experiences to be more game-like.  I wanted to see if there has been any progress in understanding how to use games more effectively and if there were any success stories, people who have designed and built games for learning that are playable and fun.
EC: When I first saw the program for the Serious Play Conference, I realized that I was not the conference's target audience.  As an academic, a cultural studies scholar, I would be an unusual (though not necessarily unwelcome) presence at a conference designed for industry executives, developers, policymakers, and administrators.  However, I thought it would be a unique opportunity to see perspectives on why video games are important, what makes a game effective or educational, and what central exigences, ideologies, and "bottom lines" animate and motivate these designers and implementers.  I was also interested to see how the terms "serious play" or "serious game" have been taken up in recent years.  Looking at the possible "tracks" at the conference—Games for Learning, Government/Military, Health/Medical, Business/Corporate Training, Consumer/Games for Good, and Sim and Game Designer—the range of what it means to work on or work with "serious games" is still limited, I think.
2) What does "serious play" mean to you?
TH: Immediately, I think serious play should draw attention to the pervasiveness of play in our daily lives and prompt us to consider the importance and relevance of play as it relates to learning and development. There is also an opportunity in serious play to consider and explore what play says about the human condition. In the context of this conference the focus is looking at play in digital games and how games are used in learning situations. However, even in this context it should raise the immediate question whether or not serious play is mandatory and whether the shift from self-selected play and mandatory participation puts an inherent risk on the quality. Ultimately, serious play is just considering the consequences of play, both when it's presented as guided instruction and as a spontaneous and necessary activity in our development.
EC: Since the late 90s/early 2000s (in particular), this has been a big buzzword.  How do you make a serious game?  What does it mean to play for serious reasons?  How do you use play for serious ends?  Again, the very phrase "serious play" reveals our assumptions about "play" that it must be the opposite of "serious."  Play is to be fun, low risk, frivolous, superficial, even childish—see Huizinga's idea of the "magic circle."  However, play need not be simply empty fun.  In fact, a lot of play mimes, practices, explores, and negotiates important and vital ideas, situations, or consequences—playing "house" or "doctor," running an obstacle course, role-playing a job interview, simulating a zombie attack—since they are often metaphors or engagements with social norms, survival, preparation, even life and death.  In terms of digital games, I think that we still need the adjective "serious" in order to think through analytical, rhetorical, political, and pedagogical ways to play.  Much of the focus of "serious play" is on education, training, and simulation, the delivery of content or facts or directions, and I hope that more attention will be turned toward other critical approaches including academic study and cultural critique.
3) What was one thing you got the most out of the conference?
TH: I think one of the biggest benefits of the conference is putting educators (as well as training and development professionals) and game industry people in the same room. Some of the discussions, such as the Keynote Panel with Alex Games, Zoran Popovic, James Portnow, and Bob Dolan, represented a sample of different perspectives on games for learning present at the conference. Each stance presenting a different way of looking at the benefits (and subsequent shortfalls) of using games for learning. Portnow challenged us to think about what we mean about engagement and Popovic highlighted the potential for novices to participate in and contribute to expert science communities.  Donald Brinkman of Microsoft Research had a couple of really good sessions (including "Productivity Games") that demonstrated how new technology and is being used (like  ChronoZoom for Big History) in addition to hearing about the efforts to improve college retention by redesigning the educational experience to include achievements.
EC:  There were a lot of ideas, a lot of interesting projects, and a lot of different people at the conference.  And being able to hear from people who work on games from very different standpoints and investments was eye opening for me.  It was also important to see the small slice of the gaming world (or reality for that matter) that different perspectives worked with.  I particularly liked hearing about development and design.  For example, David Edery (Fuzbi, Spryfox ) on Microsoft's Ribbon Hero 2 talked about the importance of having clear design goals and the time to playtest.  I also enjoyed Chris Skaggs (Soma Games), who talked about the need to connect mechanics and content and meaning (metaphor) through richer game narratives.  Finally, I was deeply impressed by Dr. Zoran Popovic's presentation on the Fold-It game developed at the University of Washington.  In the end, though, I couldn't help but think during the conference that there needed to be more of an academic presence.  It would only enrich the mix.
4) What was one thing that the conference did not address or could have addressed better?
TH: Overall, there was a lack of discourse around the definitions and concepts pervasive in games and game studies. A lot of terms get thrown around such as without the much needed clarification of what the authors or developers meant (or assumed) by using these terms. I think opening the discussions to include these considerations would have brought more depth and bridged current application with current theories.  Along those same lines I would have liked to have seen representation of a more critical engagement on gamification, perhaps through a broader inclusion of academic positions. In one session on storytelling and interactivity, there wasn't a lot of room to discuss the complexity of these concepts and the demonstration bordered on the fine line between teaching about options and marketing a brand (Know Your Options).
EC: Piggybacking on Theresa's comment, I wanted to see more critical attention and awareness of the tensions within the serious game "movement" and industry.  The values, norms, and goals of a game for teaching mathematics are very different than the values, norms, and goals of a game to train military drones (or if the values aren't different, might that be a point of concern or conversation).  These are the assumptions that Theresa points to.  Moreover, given my own work, I am interested in values, norms, and goals that are not necessarily intentionally designed or even thought about—for example, might there be more attention to heteronormativity or stereotyping or globalization?  Perhaps the most worrisome assumption running through the conference is the issue of making money, commodification, developing a product, having metrics.  Indeed, much of what is being done is often philanthropic or progressive or socially conscious, but another way to understand the adjective "serious" is to consider how much the economics impact what games get made, what games get promoted, what games get played, who gets to play them, and who gets to reap the benefits?
5) How did the conference connect to your scholarship?
TH: My background is in instructional design so attending this conference reconnected me with my years of experience in industry. But it also resurfaced my biggest conflict with industry practice (and what eventually led me back to school) is the lack of or weak connection to theoretical frameworks and educational research. In practice, the strategies for design seem to be influence more by concerns with ROI and the restrictions and limitations of available resources. As I'm learning from the academic setting, the rigor of the conceptual frameworks and ties to educational and game research is key even though the practical concerns can't be ignored. Like so many other discipline, the gap between theory and application is an interesting space to reside and attending this conference reinforced the complexity of this gap. Using games for learning sounds awesome and amazing but getting into the nitty-gritty of doing it well is really a complicated task.
EC: One of my dissertation chapters is on the gamification movement.  It was very enlightening to see firsthand the kinds of promises and seductions gamification makes, and I fear that like games themselves, gamification will become naturalized in a way that makes questioning turning "life" or "work" or "school" or "war" into a game much more difficult.  I think the power and potential of serious play and serious games are real and needed.  But I also think that developing critical literacies and approaches is also needed.  In general, too, the conference tracked for me the kinds of conversations and disciplines that I will need to be able to engage in my own scholarship now and down the road.  I think that as games are taken more seriously by the culture, the need for critical approaches and theories will also be taken more seriously.
---
The Keywords for Video Game Studies group works in collaboration with the Critical Gaming Project at the University of Washington.  Also, as HASTAC scholars for 2011-2012, the Keywords for Video Game Studies group continues to represent the University of Washington as part of the online activities and forums of the Humanities, Arts, Sciences, and Technology Advanced Collaboratory.  The Keywords for Video Game Studies working group is supported by the Simpson Center for the Humanities.