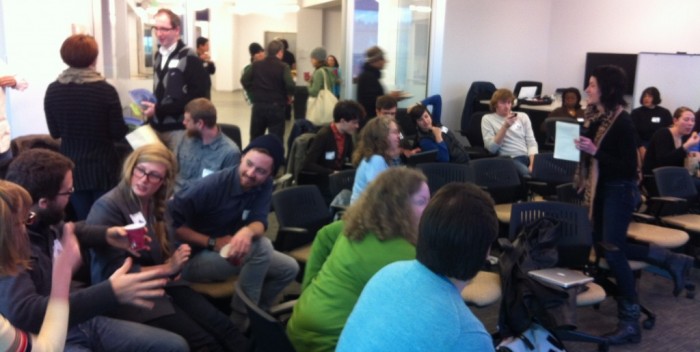 On November 12, 2011, three CGP members and Keywords for Video Game Studies organizers had the esteemed opportunity to participate and present a workshop at THATCamp PNW 2011 at the University of Washington-Bothell.   THATCamp (The Humanities and Technology Camp) is a participant-driven "unconference."  The THATCamp format was created by the Roy Rosenzweig Center for History and New Media at George Mason University where participants "check your papers and suits at the door, and just be ready to talk about the work you're doing, the work you want to do, how you might collaborate with others, and how you can help and be helped by a community dedicated to the intersection of the humanities and technologies."
The THATCamp PNW 2011 theme for this year is tech & social justice, asking questions like "What are the relationships between technological literacy & social change?  Online & offline forms of participation?  Projects in the cloud & projects on the ground?"  With this broad theme in mind, I proposed a workshop on video game pedagogy, on teaching (with) video games as a way to think about technology, education, and critical analysis as forms of social justice.  Specifically, I wanted to talk about technological "literacy" (for lack of a better word and the idea that students need to be taught how to play games as researches, scholars, and even activists.  The session was entitled "Close Playing, or, Teaching (with) Video Games" and featured Sarah Kremen-Hicks (English, UW) and Terry Schenold (English, UW) as roundtable respondants:
Central to this workshop is a definition and demonstration of the pedagogy of "close playing" and "paired playing." Like close reading, close playing requires careful attention to how the game is played (or not played), to what kind of game it is, to the design and goals of the game, to what choices are offered (or not offered) to the player, to how the game intersects with players and the culture at large. In other words, before we can take video games as serious objects of study, we need to develop ways to frame them, study them, and to seriously play them.
We had a engaging time at THATCamp PNW 2011 and thank the organizers and sponsors for giving us the opportunity to attend and to run a workshop.  Though the camp addressed technologies and issues beyond video games and pedagogy, we were delighted at the number of people who attended our session (and the general interest in games overall) and happy to share our experience and practices.  Here is a down-and-dirty debrief/post-mortem from the event.
1) Why did you attend THATCamp PNW?
Terry Schenold (TS): I had heard good things from colleagues about the "unconference" experience, and the theme of tech & social justice was of interest to me.
Sarah Kremen-Hicks (SK): Initially? Because it was here, and because it was free. It's hard to beat that, right? When I saw that the theme was social justice, though, I realized that it would be quite useful in making connections between the service learning class I'm teaching this year and the digital humanities content I tend to bring to my work.
Edmond Chang (EC): I had attended one session at THATCamp PNW in 2010 to see a colleague give a presentation on video games and as intrigued by the THATCamp format.  This year, I was fortunate enough to be invited by one of the organizers to run a workshop, particularly addressing technology and pedagogy.  I thought it was a great opportunity to talk about "close playing" and to bring some experienced teachers of video games together to share not only an approach to teaching (with) games but also to offer some practical advice on how to do it.  It was a great opportunity, and I had a wonderful time.
2) What sessions/topics interested you the most and why?
TS: Obviously I was interested in the sessions/workshops having to do with game technology, though I also have interest in cloud computing and collaboration technologies. I am very interested in the work being done at the Center for Serious Play (CSP) and the discussion of the Wetland Restoration game to be very engaging. It was helpful to hear from a game desginer how he viewed the project and the rationale for adapting commercial game mechanics and aesthetics.
SK: The session on GIS/NeoGeo was fascinating, and fed into a project idea I've been toying with. Having a chance to just gab with a room full of people geeking out about mapping was great, and I hope I'll be able to make use of a lot of the information that came out of it.
EC: Like Terry, I gravitated toward the games sessions.  I split my time between the session by the Center for Serious Play called "Learning About Games, Playing for the Future, Games for Change" by Mike Mulvihill and Wanda Gregory" and the session on cultural studies/gender and sexuality and video games.  The conversation in the latter, in particularly, was really rich and the questions participants raised really fed into my own interests and research.  Mostly, however, I really liked the scheduling session in the morning, where the program for the day emerged organically from people's suggestions, votes, and interests.  It was really helpful and interesting to see the THATCamp process, and I hope to use some of that ad hoc fun and negotiation in the ways I organize things.
3) What was one thing you got the most out of the unconference?
TS: Meeting other individuals working on technology and hearing about their projects.
SK: Definitely the contacts; I've enjoyed keeping up with the people I met there on Twitter and being able to exchange ideas with others who are equally invested in the future of the humanities.
EC: Meeting people, seeing some of the same faces again, and getting the opportunity to talk in a setting that was about ideas and sharing and conviviality.
4) How did the conference connect to your scholarship?
TS: Ed's close playing workshop and the CSP presentation both connect to the work I am engaged in on games in my dissertation in a broad sense. I am invested in developing a broad understanding of games as communicative media, and this includes expanding the ways we think about their use. Games are very information rich and dynamic as objects of inquiry, and to see their expressive value we need to develop strategies of attention that are apposite to the activity of gameplay.
SK: I think the most useful thing for me was just the chance to toss an idea around with a bunch of people. So often in our discipline we work alone, and I think we forget how productive collaboration can be. I came away feeling energized to work on a number of new projects that have been on the back burner because I wasn't sure how to begin.
EC: I study, write about, and teach video games.  So, the (un)conference gave me the opportunity to share my ideas and to get immediate feedback.  Mostly, though, I think any space that is open to video game studies (as a newish and emerging "field") is important to me.  It shows me that the work that I do is valued and is supported and will hopefully translate into opportunities down the road.
5) Specifically, say something about the video game pedagogy roundtable.
TS: It was delightful to see that there is real desire to engage games critically, and the discussion featured interesting questions about teaching games. The questions we received in the panel phase were enlightening, revealing the many complications of teaching with video games: student resistance, new assignment formats that draw out the uniqueness of games, issues with evaluation, and so on. The session as whole prompted me to think more about the labor/time investment unique to teaching with games, everything from tech access to extra time needed in class for communal play, more time for teaching media prep (compared to a course using texts or images only), etc.
SK:  The roundtable was great fun – there aren't nearly enough opportunities to discuss the mechanics of teaching, I think. I came away with some really exciting ideas to incorporate into my own teaching, and I think others at the rountable felt the same.
EC: I echo the statements above wholeheartedly.  And I want to extend what I said earlier about wanting, finding, and developing the space to do the intellectual and pedagogical (and even political) work that you want to do as a scholar, a teacher, and an individual.  The workshop showed me that there is a real desire and need for ways to talk about and teach games, ways that do not simply instrumentalize games and ways that do not assume that students even in the 21st Century are already "there" in terms of critical awareness and skill.  The field is wide open, and I hope we continue to shape, transform, and fill it with a wide range of perspectives and possibilities.